…and some days the bear gets you (or so the saying goes).  More on that later, folks…
We had a great ride on Saturday up to Crystal Lake.  It's one of our favorite destinations because, well, it's just a great ride.  It's an easy one for us, too.   We just grab Azusa Canyon Road (that's Highway 39) and follow it all the way to Crystal Lake.
On the ride up, as we leaned left and leaned right through the San Gabriel's magnificent twisties, I spotted a gorgeous C5 Corvette parked by the side of the road and there was a guy taking photos of us as we rode by.  It was good buddy Bill, who owns a couple of CSC 150 Mustangs.   Bill's ridden with us before, and a fascination with CSC motorcycles is an activity he shares in common with his grandson (more on that in a second, too).   Bill shared a few of his photos with us…this first one is Bill's shot of me on my TT250.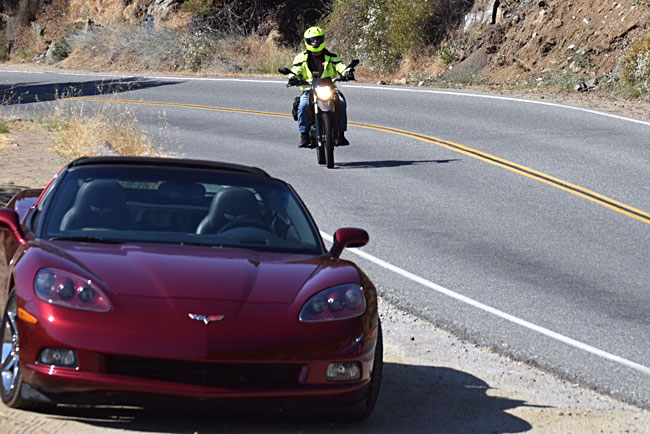 Here's one of Steve on his Triumph…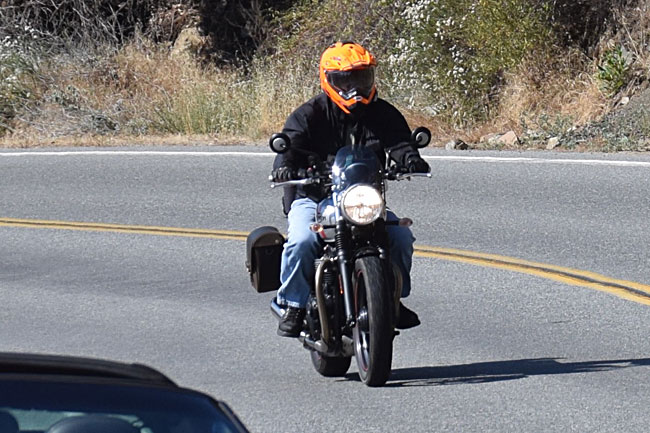 And here's one of Terry on his KTM…it has cool LED headlights…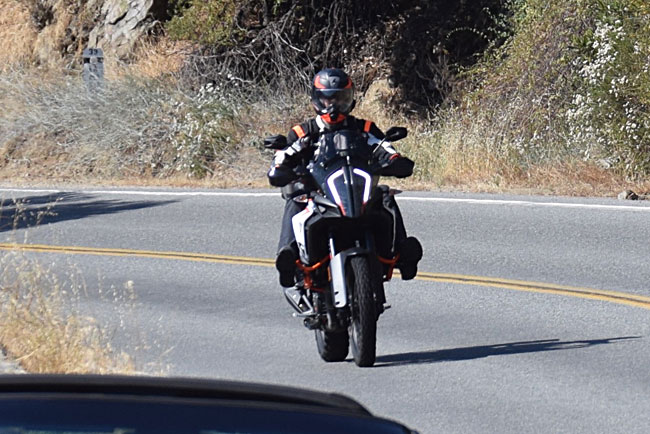 So, about Bill's family-fascination-with-CSC thing:  Two years ago while we were on the 5000-mile Western America Adventure Ride with our friends from China, we had been on the road about 18 days when something really wild happened.  We were on the 101 heading back to Azusa after riding through California, Arizona, Utah, Colorado, Wyoming, South Dakota, Idaho, Washington, and Oregon.   It was early in the morning and I was the guy in front when a pickup pulled up alongside and a young guy started waving enthusiastically at me.   I had no idea who he was.  I thought he was either somebody who just liked seeing a group of 10 or 12 RX3s out enjoying a great ride, or maybe he was somebody who had been following our grand adventure on the blog.   The pickup fell back and I forgot about it, and then it caught up with me again.   This time, the young fellow held up a message he had scribbled on a McDonald's bag…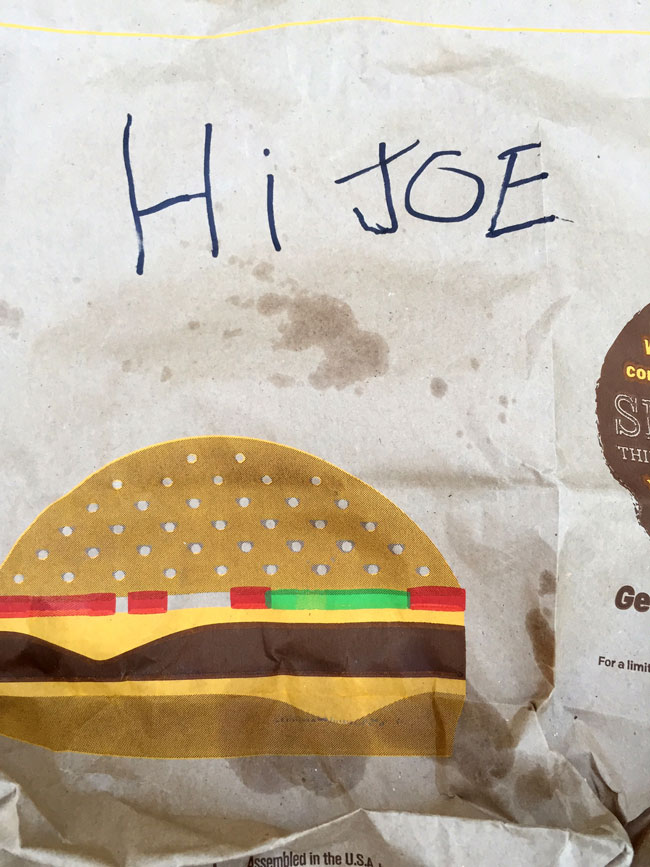 I didn't have a clue who the youngster was, but I was fascinated by the encounter and I posted a blog about it that night.  Bill emailed me within the hour to tell me it was his grandson!
Okay, back to the Saturday ride…
I rode my TT250 on this one.   I've been giving a lot of seat time to the TT250 lately.  Yeah, my RX3 is a lot faster, but the TT250 is super light and I love riding it in the mountains. It's my "go to" bike most of the time.
On the way to the plant early that morning I stopped for gas at the Shell station and I did a quick fuel economy calculation…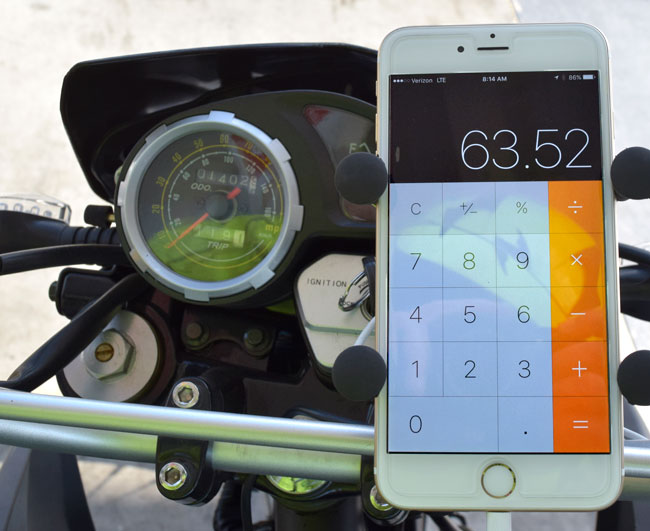 Not quite as good as the RX3 (the RX3 typically gets over 70 mpg), but good enough.   The RX3 is fuel injected, and the TT250 has a carburetor.   That alone explains the fuel economy difference.
After that it was coffee and donuts at CSC, and meeting the guys who would be joining us on this ride.
It sure was hot on Saturday.  We've been having horrendous heat here in So Cal (which is typical this time of year) and the humidity was high (which is unusual for us).   Once we were on the move, though, the heat didn't bother me.  That reminded me a lot of what it was like riding in China:  Oppressive heat and humidity, and blessed relief once we started rolling.
The ride up was amazing, as it always is.  I wasn't wearing my camera because I had photographed the road so many times before, but I captured photos of the guys who rode with us once we arrived at my good buddy Adam's Crystal Lake Cafe…
This is Terry, who rides a brand new KTM 1290.  It's a beautiful bike.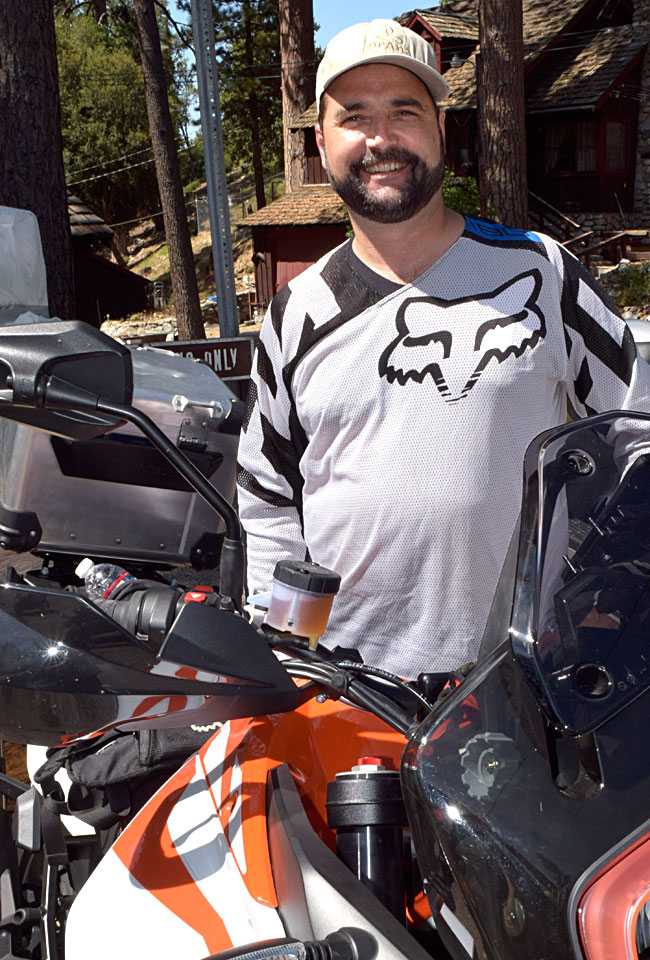 I did a double take when I first met Terry.   I thought he could be my good buddy Pete's twin.   You'll remember Pete from the first CSC Baja ride (see the Baja photo below)…and you tell me:  Do these two guys look like brothers?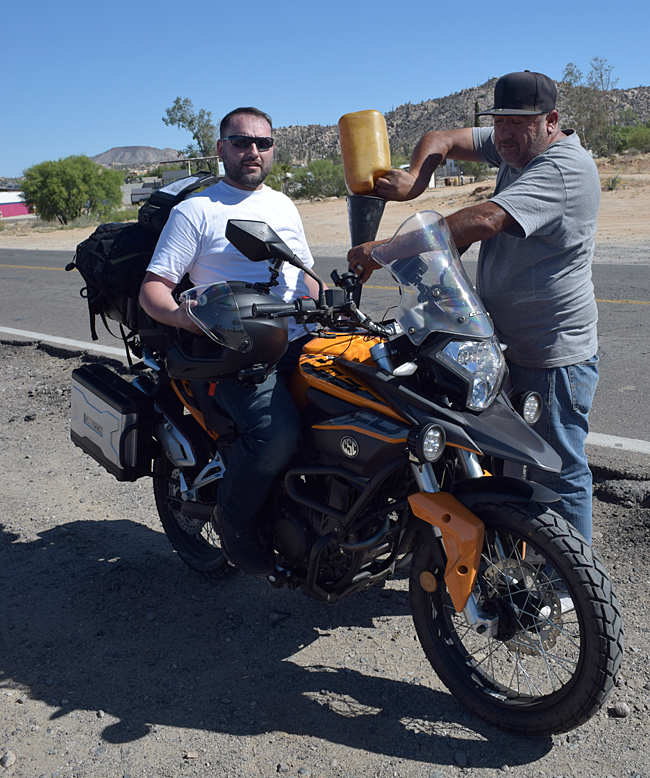 Here's Eric, who rides a 300cc Kawasaki Ninja…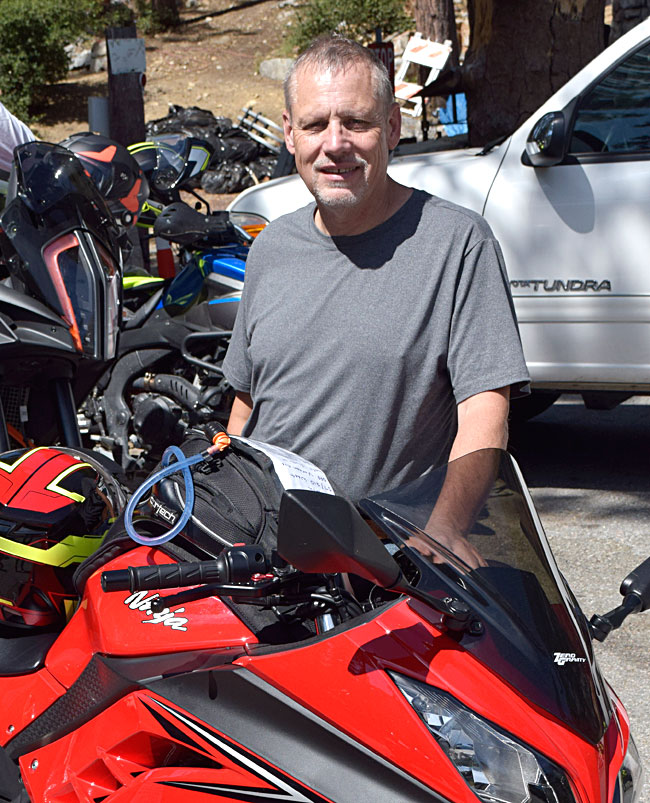 You guys know Roland, our factory WERA rider who is tearing up the track on his CSC RC3 racebike…Roland is leading the field in points with his CSC right now.  He rides a Yamaha R3 on the street…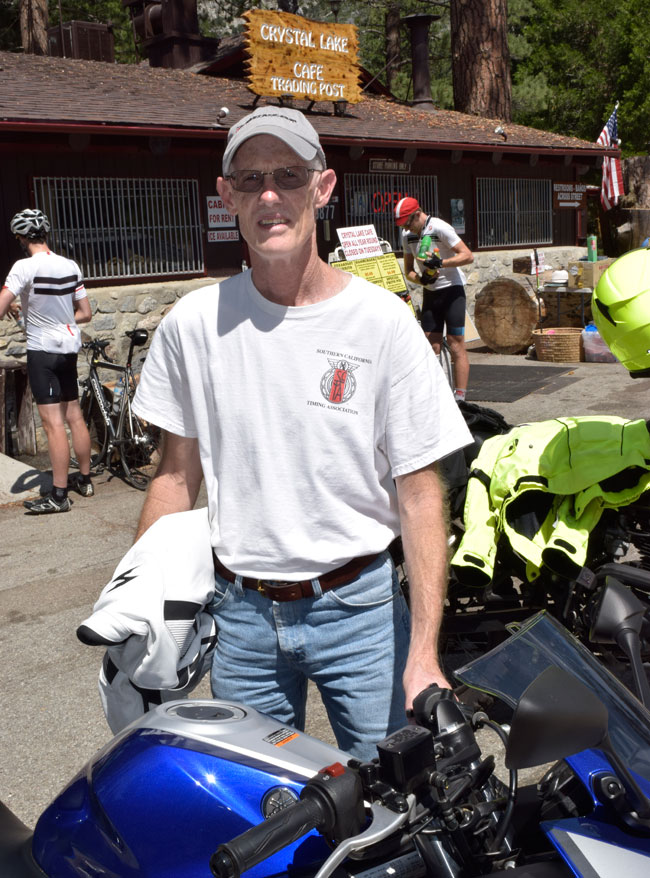 My good buddies Duane and Dan rode with us.   Duane rides an RX3, and Dan rides a TT250.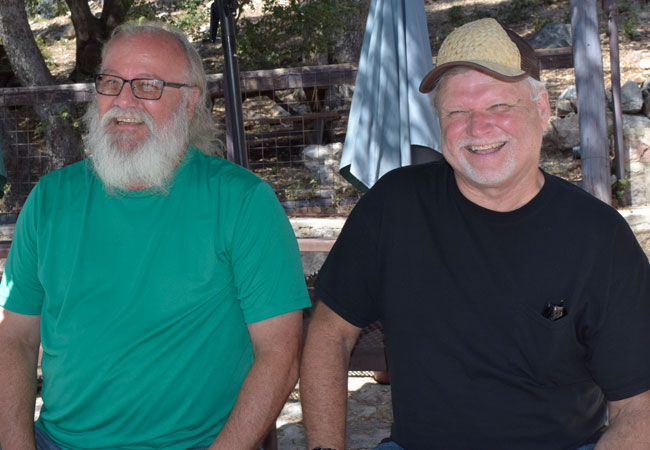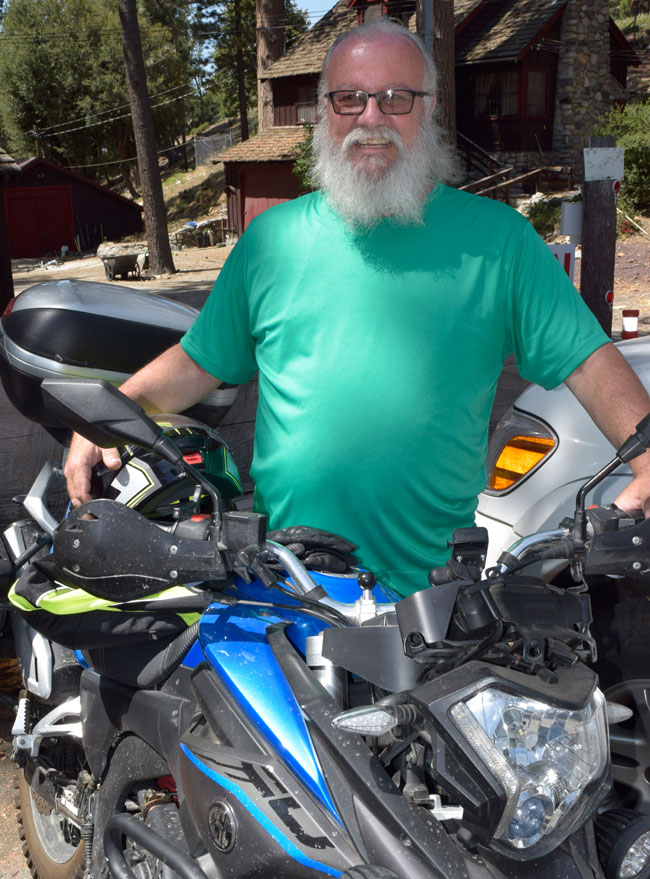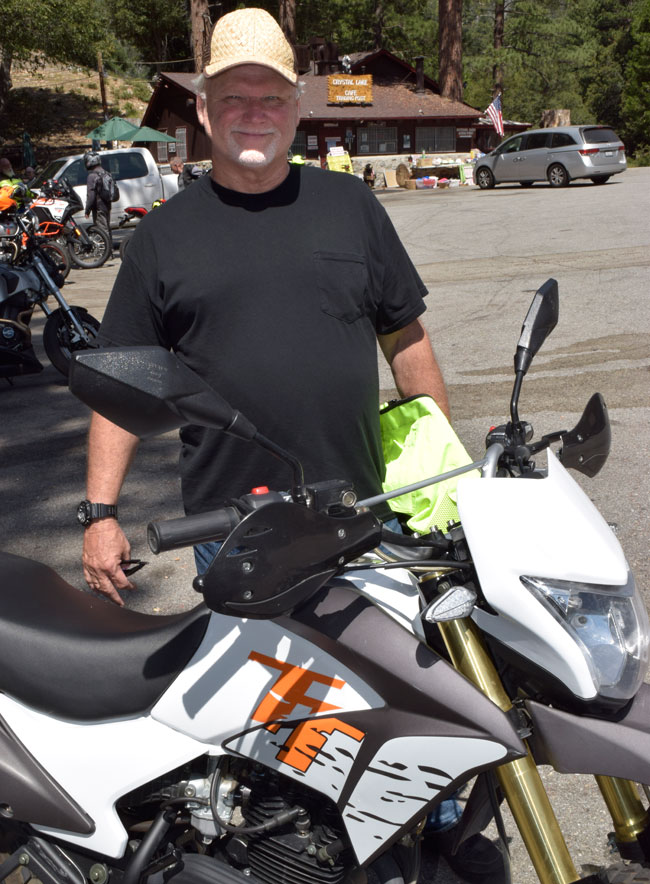 Good buddy Steve rides a Triumph Bonneville.  He's been with us on several of our monthly CSC rides…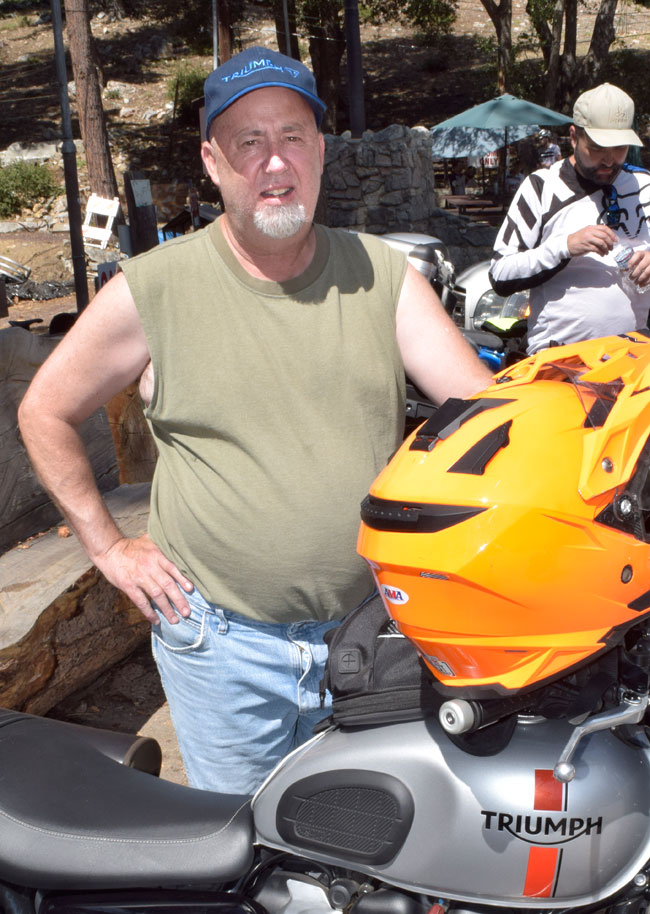 As  you can probably tell from the above photos, it was brutally hot Saturday morning.   It's a challenge photographing things on these hot and bright days because the lighting is so harsh.  Hey, I did my best!
Ordinarily, I would wear my Nikon around my neck while riding, but it was so hot I didn't do that on our Saturday ride.  That was a mistake, because what happened next was absolutely amazing (give me a second and I'll get to it).   We were at the Crystal Lake Cafe for maybe half an hour (where I enjoyed the world's best hamburger with a cold drink) and then we geared up for the ride down.   ATGATT, and all that.  Wow, the heat was oppressive, and wearing a jacket, gloves, boots, and a helmet intensified the sauna that was our Saturday ride.
I knew the road glare in this kind of heat and brilliant sunshine would make for poor photos, and I was lazy.   Like I said above, I left the Nikon in its case and the camera in my TT250's Wolfman luggage (which I love), and then we started the easy (but twisty) run back down from Crystal Lake.   Ah, the self-induced breeze kicked in as we picked up speed, and I immediately felt cooler.
We hadn't ridden down through the twisties two miles when I came around a corner, and there, right in front of me, was an enormous bear!  My first thought was:  Am I imagining this?
Nope, it was real.
My second thought was:   Damn, no camera!  What a shot that would have made…an over-the-TT250-handlebars photo of a bear!
I passed within just a few feet of the bear, who looked at me with what I took to be an admiring glance.   He was either sizing me up as a meal, or taking in my beautiful black TT250 (and maybe wishing he could ride one, too, in this intense heat).  It was an amazing encounter.  I've never been that close to a bear in the wild.  In fact,  I've never seen a bear in California on any of my rides.  What an experience!
My third thought was to turn around, get the camera out, and go back for a bear photo.   I quickly ruled that out.  For starters, sudden stops in the twisties when you're leading a group of fellow riders is not a good idea.  For all I knew, by the time I got back up there, the bear would have probably run back into the woods to do what bears do in the woods.   And then if the bear was still there, was it really a good idea to get close to it?
Nope, my bear encounter was grand experience, but a photo was not to be.  It just wasn't in the cards that day.  Tough luck for you (I'll try to do my best describing it with mere words), but a great experience for me.   I've got the image in my mind and it will last forever.  The bear seemed enormous, it looked to me like he was smiling, he was light brown with a blond tint to his back, his claws were black and looked to be about 2 inches long, and he had a yellow tag on his right ear (apparently this bear liked getting close to people and our encounter was not his first rodeo).
All of the guys behind me saw the bear, too, and they were as excited about it as I was.  It all happened so fast that as was the case with me, none of them got a photo, either.   But here's the best part:  With each re-telling of our story, the bear keeps getting bigger.  He's up to about 1200 pounds now!
I'd like to be able to tell you this is our bear, but he's not (it's just a photo I found on the Internet).  It sure captures the spirit of our close encounter, though!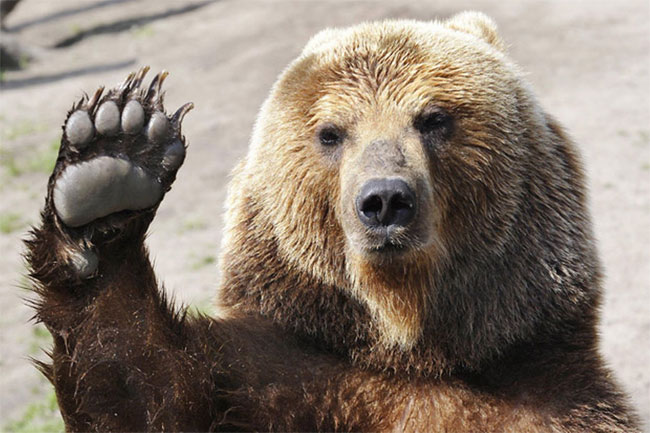 So that's it for now, folks.  Another day, another grand CSC adventure.   You could be part of it.  Give us a call on Tuesday.  There's a bike here at the plant with your name on it…