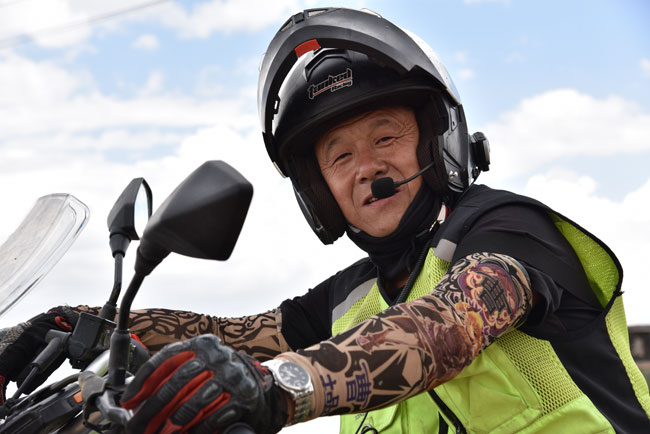 The grandest thing about being associated with CSC is the wonderful people I meet. One such person is Sergeant Zuo, our ride leader on the ride across China last summer. It was one of the best adventures ever. Today I received a couple of emails from my good buddy Zuo, and they took me to a Chinese motorcycle forum.
Here's the deal: If you want to see it in English, copy and paste this email address…
http://bbs.moto8.com/forum.php?mod=viewthread&tid=542742&extra=page%3D2&from=timeline
…into this translation site…
http://itools.com/tool/google-translate-web-page-translator
…and you'll be able to read it in English.
Sergeant Zuo is a great guy.  I enjoyed his companionship and leadership on our ride across China.  Zuo has about 25,000 miles on his RX3 now and it's running strong. I know he reads the blog, so I'm going to make it easy for him and translate today's blog into Chinese!
与CSC相关的最大的事情之一是我遇到的美好人物。 其中之一就是中国队士兵左骑士,去年夏天,他是我们坐在中国的骑行领袖。 这是历史上最伟大的冒险之一。 今天我收到了我的好伙伴Zoo的几封电子邮件,他们带我去了一个中国摩托车论坛。 这是交易:如果你想看到它的英文,复制并粘贴这个电子邮件地址…
http://bbs.moto8.com/forum.php?mod=viewthread&tid=542742&extra=page%3D2&from=timeline
…进入这个翻译网站…
http://itools.com/tool/google-translate-web-page-translator
…你可以用英文读它。
佐武是一个伟大的家伙,我喜欢他在中国的陪伴和领导。 他的RX3现在已经有25000英里,而且运行得很好。 我知道他读博客,所以我要让他很容易,并将这个条目翻译成中文!