We had a great time at our first Dual Sports and Donuts weekend, folks.   I met several people I had only known online.  A bunch of folks showed up for maintenance, to see the RX3 and the TT Special, for test rides, and of course, for coffee and donuts.  We're doing this every Saturday, so if you didn't make it this week, swing on by this Saturday.
My good buddy Tuan, a former student of mine and an RX3 rider, stopped by just to say hi.  It was good to see him again.  Duane and Twin Peaks Steve, both RX3 riders and good friends whom I've personally ridden with, were there.  Flip and Dorie from Horizons Unlimited visited with us.   Eric from the XLADV and Thumper Talk forums stopped in with his awesome KTM for an oil change.  Here's a shot of Eric…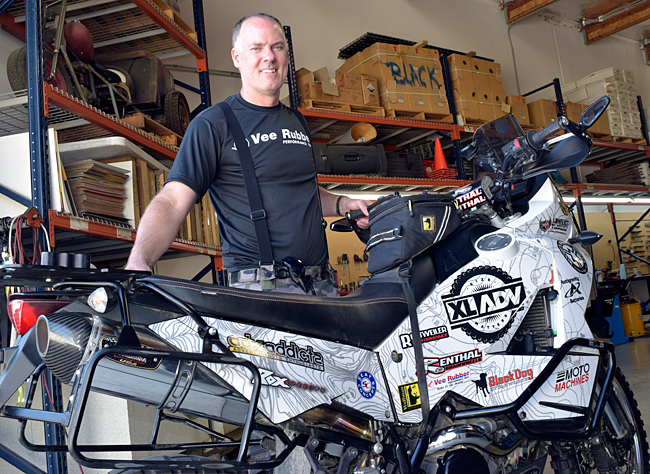 Eric's KTM has a custom topographical map wrap that I think is stunning…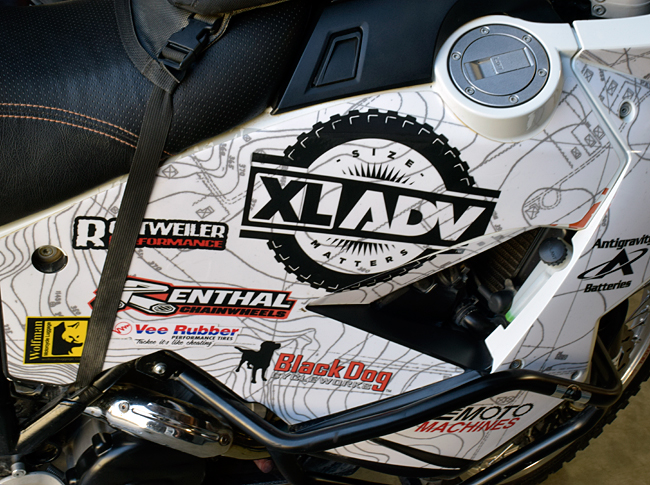 Hmmm.   That theme with a light green and brown background (just like a 1:50,000 artillery topo map) on an RX3….the wheels are turning, folks.
I mostly stayed in yesterday and today, working on 5000 Miles at 8000 RPM.   It's a blast…I'm reliving the ride as I am writing the book.  During the ride, it was tiring and sometimes frustrating.   Writing about it, given that a couple of weeks or more have elapsed since we got home, I am remembering it as a lot of fun.
The title notwithstanding, 5000 Miles at 8000 RPM is about more than just the Western American Adventure Ride.  It includes CSC's origins, the story behind the little Mustangs (the first CSC bikes), the relationship with Zongshen, what it was like bringing the RX3 to America, the Inaugural Baja run, the keyboard commandos and their nutty Internet rants, and more.
I finished all that stuff listed above and I'm writing about the Western America Adventure Ride now.  I just finished the chapter on Mt. Rushmore (there's one chapter for each day of the ride).   It's funny…when I start writing each chapter, I think it will only be a few paragraphs.  As I get into it though, with a map and the photos in front of me, I typically end up with about 3,000 words describing each day.   I'm at 163 pages now and I reckon the book will be about 250 to 275 pages when I'm done (and that will be in maybe another 10 days).   It's good.  You'll enjoy it.
Ah, the book beckons…back to work.