Wow, it's hot and humid out here this week.   We've been having temperatures in the very 90s and low 100s, and it's been humid.   Not a good combination.   Several folks were struck by lightning in So Cal this weekend, which has never happened in the 30+ years I've been in California.
The bottom line is me and the boss (the one I have at home) have been laying low and trying to stay cool.   We took a ride out to the plant today and I grabbed a couple of photos…the first one includes three bikes from Steve's stable of super sleek Mustangs…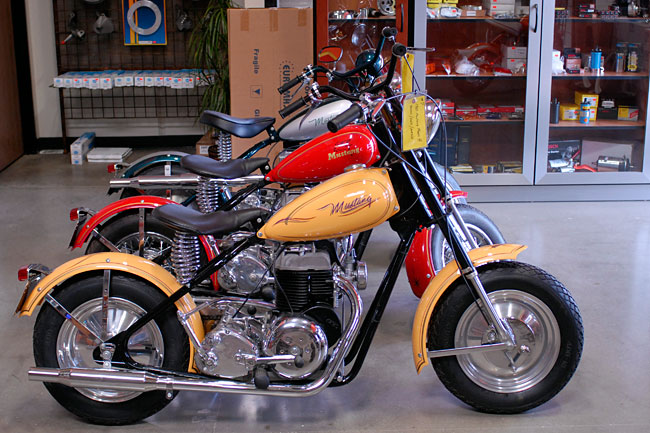 ….and the next one is the one you all keep asking about…a photo of our magnificent Mustang model and manufacturing maven, Miss Lupe…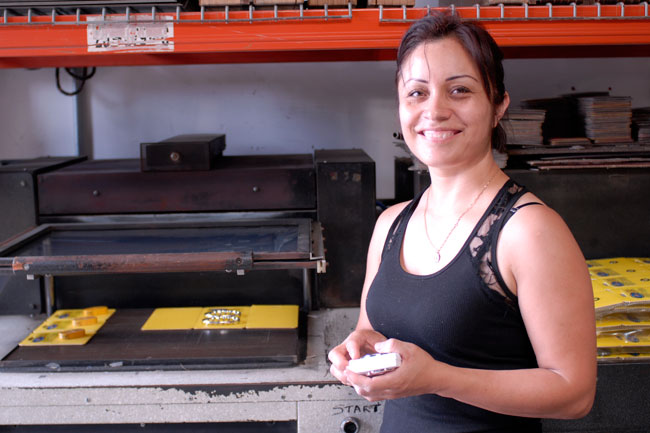 Sunday night Steve and I and our two bosses (you know who I'm talking about) had a great dinner, and on the way home one of the new Dodge Challengers passed us, and then within a minute a new Shelby Mustang passed by, too.   That morphed into a discussion about great American cars.   Steve likes Mopars, and I'm a GM man.   I had wanted a Vette all my life and 11 years ago I finally pulled the trigger.    I'll never sell that car.  In fact, I may write into my will that when my time comes, just find a good taxidermy man and stuff me.   Put me on display in my Z-06.   If you can get that guy to stuff me with baloney and motorize my fingers, I'll keep writing the blog, too.
Anyway, my comment to Steve was that the most beautiful car ever made anywhere in the world was the '67 big block Corvette.   Wow, I used to drool over those things.   I could have bought one new in '67 for $5K (of course, to me in 1967, $5k was an inconceivable amount of money).   Those same cars trade hands today for well over a quarter of million dollars.   Ah, who knew?
Well, whaddaya know, when I got home and tuned into Facebook (the greatest time suck in the history of the world), one of my friends had posted this video…
That is pretty cool stuff, folks.
One last thing…staying inside with the air conditioning running full bore 24/7 in all of this heat has been boring.   With a bad case of cabin fever and my Mosin-Nagant antique rifle fascination, I started a new website focused on those magnificent old Russian infantry weapons.  I bought my own domain name (www.Mosin-Nagant.us) for the princely sum of $4.99, put it on line, and within the first few hours I had over 1,000 hits!   Owing to the synchronicity of interests (lots of shooters ride, and vice versa), I think I'll add a link to the CSC motorcycle site, too!
That's it for now, folks.  Ride safe, stay cool, and watch out for the lightning bolts!