Wow, take a look at this, folks…a super nice note regarding the 5000 Miles At 8000 RPM book from my new good buddy Gar in Wyoming!
Joe,
I literally just finished your book. It arrived in the mail on Thursday and I have been reading it between doing chores and getting ready to take my motorcycle out for my first ride of this year. Due to an age related back problem that started late last year, and culminated in fairly significant surgery on July 7th, I have been restricted to looking at my motorcycles, and reading about motorcycles, but not riding them. But starting on Monday, I'm back in the saddle.
I really enjoyed your book for a lot of reasons, not the least of which is that it is well written and engaging. Hard to put down. But one of the big reasons is that it's about places that I have been on my motorcycles over the years. And it's really intriguing to read about the Zong 250.
I grew up in Eagle Rock, California. Yup, just down the road from Azusa. My grandparents lived in Pomona so once a month my mother would drive us to their house on Foothill Blvd, before the freeways existed. So I learned were Azusa was early on. I always loved that drive. Lots of orange groves back in the '50s and early '60s.
I started riding motorcycles when I was 20 years old in 1969. My first motorcycle was a Honda CB 350 that I bought in July of 1969. In August I took off on it (thinking it was a big bike) by myself to go to Minneapolis to visit relatives there and to have an adventure. I first rode north to Washington State and then East to Minneapolis. I stayed in Minneapolis until late November. I left there in a light snow and 28 degree weather, heading due south for New Orleans. In New Orleans I met up with a friend who was driving back to LA and the two of us drove back together. He in his Toyota Land Cruiser and me on my Honda. We got back in mid December.
That was the beginning of my motorcycle life. When I got back I traded the 350 in on a new CB 750 and made two more trips to Minneapolis over the next two years, plus lots of shorter ones to the western states. In 1974 I got married and the motorcycles went away for a couple of years. From that point on there was usually one in the garage but it wasn't the focus of things. A daughter, a Jeep, a move to the Bay Area, a couple of employment changes, kept motorcycles in the background.
In 1986 I stumbled into a 1970 Norton Commando that needed me and I bought that. For the next thirteen years, Nortons were the focus of my motorcycle world and all my riding was done locally in the Bay Area. In early 1999 I casually mention to my wife that 1999 was the 30 year anniversary of my first trip to Minneapolis. Motorcycles aren't really her thing but she surprised me when she said, "You should do it again"! Little did I know she thought I would do it on one of my Nortons. Little did she know, that wasn't going to happen. 4,000 miles on a 29 year old British bike. Not that it wouldn't make it, just not what I had in mind.
I wound up finding a 1976 Honda Goldwing that hadn't been started in 11 years and I bought that for $500. A couple of weeks of intensive work on it and off I went. The trip reminded me how much I liked long distance riding so when I go back, the Goldwing went away for a 1990 Kawasaki Concours. And I started in on the highways again. I was still involved with the Nortons but now, each year I went somewhere far off.
In 2005, I retired and we moved to Buffalo, Wyoming.
That Kawasaki gave way to a newer Concours, which in turn made way for a BMW R1100RT. Three years ago a friend in Virginia sold me his 2007 Moto Guzzi Norge, and I discovered Moto Guzzis. I loved that bike. But last fall I got the urge to buy a NEW motorcycle. I had been buying used since 1977 and all those bikes always came with POPs (Previous Owner Problems). So last fall I rode to Moto International in Seattle and traded in the Norge on a new Stelvio. I got it home just in time for the weather to close in and I haven't ridden it since. But Monday I am headed for a three day ride to Idaho.
But back to your book. I really believe, with a couple of small exceptions, I have been down every road you wrote about. What a marvelous ride it must have been for you and your entourage. And to do them all at once. It has taken me years to hit them all. Reading about Mt. Rushmore (1969 on the Honda 350), Hell's Backbone (several times on a Norton and once on the Beemer), Hell's Canyon (1999 on the Goldwing), the Pacific Coast Highway (several times on several machines), Utah (practically every bike I have owned), Oregon (CB 750 again), South Dakota (Concours) has been a real trip down memory lane. Even the 210 Freeway evokes memories.
Looking back on all of that time, I never had a bad moment. But the old 350 Honda may have been the best time. Big enough to sustain highway speed and gas mileage approaching 60+ mpg. Minimal equipment and camping by the side of the road. I could leave LA with $400 in my pocket, be gone for 4 weeks, drive all the way to Minneapolis, and still have money left when I got home. Times have changed but the saga of your 250 Zongs brought back the essence of "pure" motorcycling.
I have been hoping that come September I will be up to a long ride somewhere but I have been having a hard time figuring out where I want to go.  I am now thinking that Azusa might make a good destination. I would really like to see the RX3 in person. So maybe that will be it. I am 67 years old now and as much as I like the big road bikes, they are heavy. An RX3 might be just the ticket to keep me in the saddle longer.
I really enjoyed your book. Thanks for writing it.
Gar
Hey, Gar, thank you for that wonderful email!  I thoroughly enjoyed reading it and hearing about your adventures.   If you loved 5k@8K, you'll really love Moto Colombia! and Riding China.   Moto Colombia! is in stock now at CSC (see the link to the right) and Riding China is proceeding right on schedule (it will be available at the end of this month).  I am having an absolute blast writing Riding China, and I'm reliving the adventure of a lifetime as I do so.  You can pre-order that one with the link on the right, too!   I've finished the first draft already and I'm going through the book adding photos now.   Here's a photo I particularly like…it's when we ran into the Gobi Desert camels…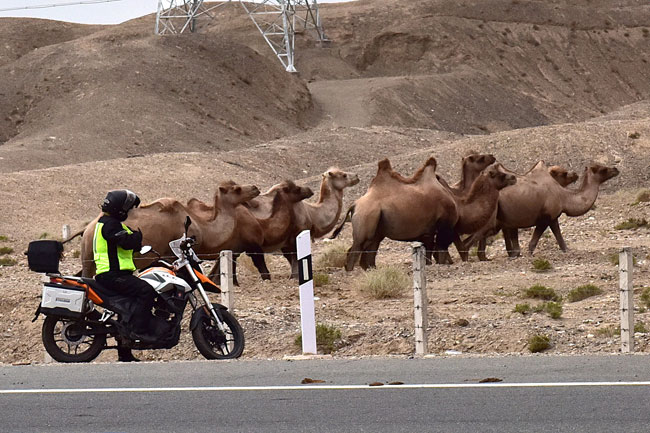 Your comments about life sometimes getting in the way of riding is spot on.   And about seeing an RX3 for yourself…we have a very active Affiliate Program, and I'm sure there's someone in your area who would like to show you their bike.  Just give us a call on Tuesday (909 445 0900) and we'll make it happen.  And if you want to ride out to visit us in Azusa, we'd love to see you!
One last thought, Gar:  Our next RX3 Baja ride will be in March of next year, and that's only a few months away.   Please give some thought to flying out here, picking up a new RX3, and blasting through Baja with us on the next trip.   We don't charge anything for the Baja ride (you only have to pay for your meals, hotels, and fuel).   We sure had a ton of fun on the first two Baja expeditions, and I'd love to have a real rider like you with us on the next one!