Yep, just like the title says, we're introducing the new CSC TT 250 with our famous "Don't Miss the Boat" approach!   Just like we did on the RX3, for an extremely limited number of motorcycles, you can get your oar in the water on this exciting new CSC motorcycle for just $1,895!
Our good buddy Matt has the right idea, folks…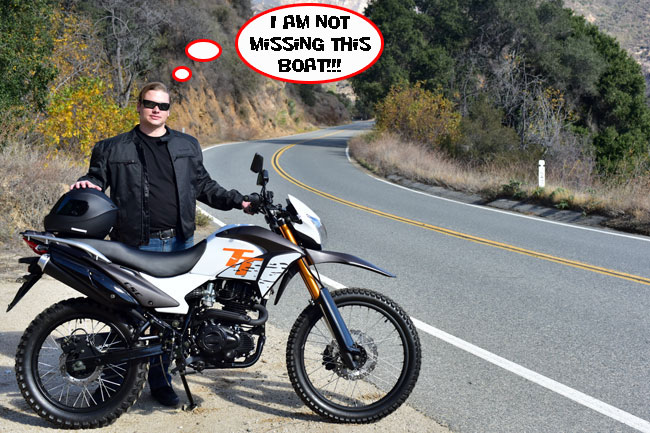 The new TT 250 is an air-cooled 250 dual sport, with more emphasis on dirt than street riding, but it's fully street legal and when it completes its CARB and EPA certification, it will be available in all 50 states!   The new TT 250 motorcycles will be arriving sometime next Spring, and if you want to get one at $1,895, you need to act now.   We're taking $1,000 deposits, and we're only selling a small number at this price.   When we think we've got the word out sufficiently, the price will be $2,495 (and that's going to happen quickly).   There's no going back.   $2,495 is still a hell of deal, but $1,895 is even better.  If you miss the boat, you miss it…you'll never see another offer like this one.  Check around on how many folks are saying they wish they had jumped when we introduced the RX3 with our Don't Miss The Boat pricing.   Don't let the deal of a lifetime get away this time!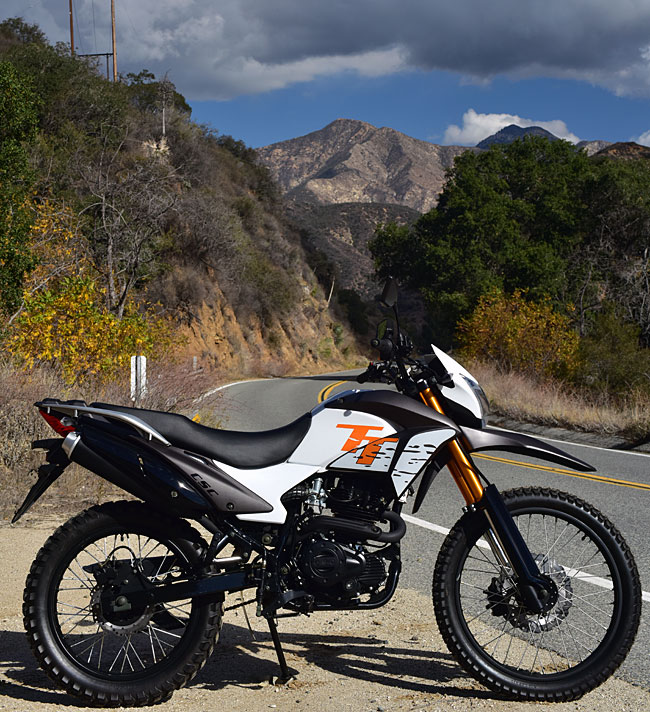 We're offering the CSC TT 250 in three colors:  White with orange letters (like you see above), black with silver letters, and red with silver letters.   The bikes will have a one-year unlimited mileage warranty, we'll stock all the parts, and you'll get our world-class customer service everyone raves about on all the forums.   The TT 250 will have our exclusive handlebar-mounted accessory switches with outlets under the seat.   We'll have extensive online maintenance tutorials and you'll get a service manual with the bike.  We're selling direct, with no dealers between you and us, just like we do on the RX3.  In short, folks, you'll get all that you've come to expect from the world's premier rider-focused motorcycle company.   We're CSC, and we put you first.
We're still dialing in the details, but in the meantime, here are the specs on this exciting new motorcycle!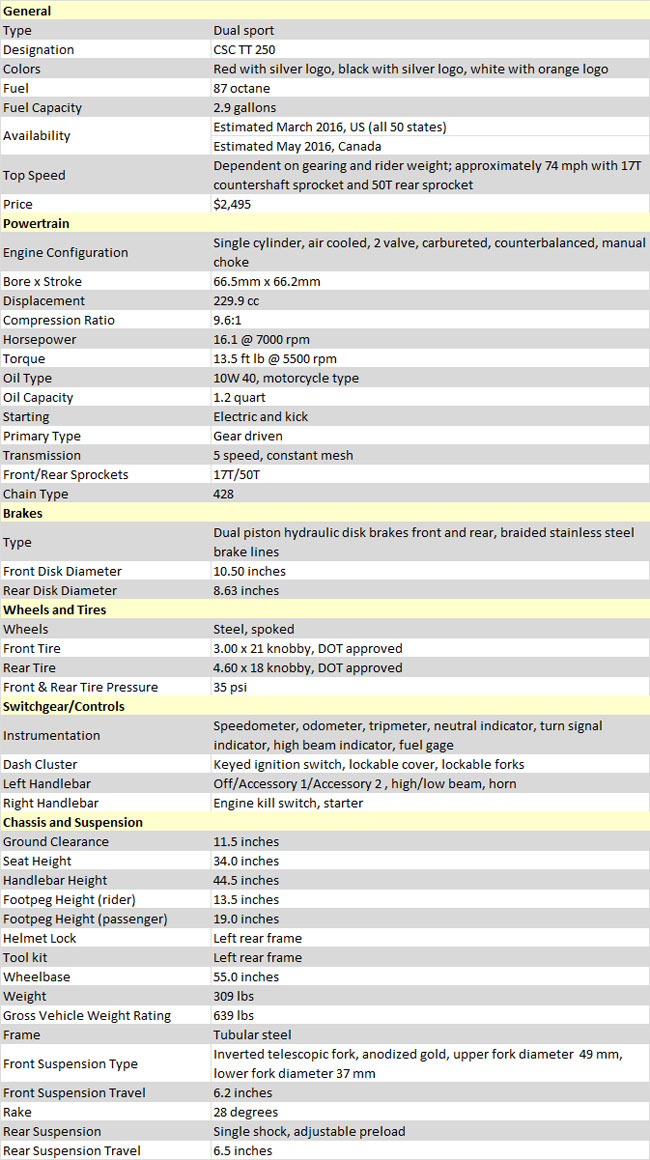 Matt and I were out on the TT this morning…these photos were up in the San Gabriel Mountains just north of CSC's corporate headquarters.   It was cold up there today, but it sure was fun.   This bike is a runner.  It's fun.  It's a great motorcycle and it's your ticket in to a world of adventure. 
Do you want to put yourself in these photos?   Hey, give us a call at 909 445 0900.   We're open Saturday, and folks, this Don't Miss The Boat special offer won't last long!