Did you ever see something during the day and just know that it was going to give you nightmares?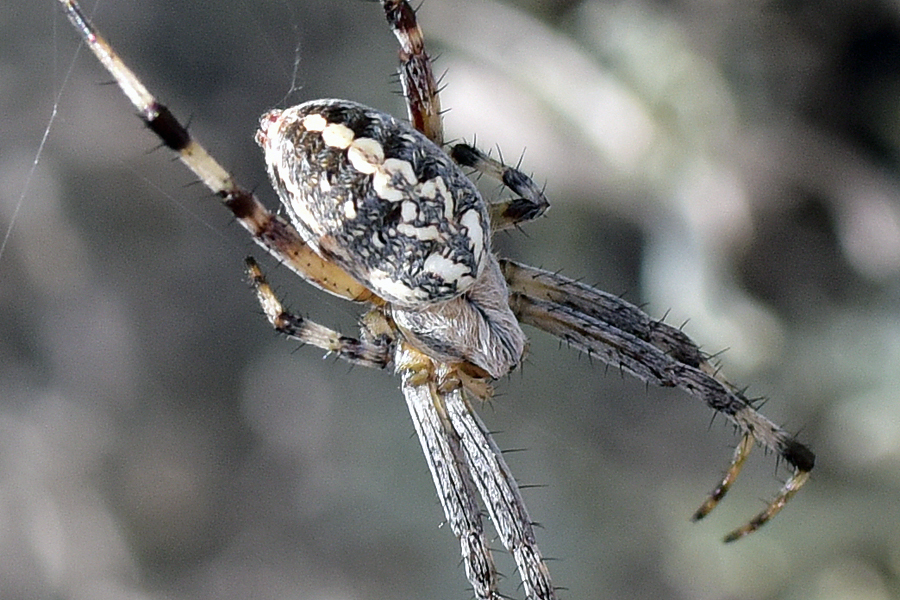 Susie and I are poking around a bit in Salt Lake City.  We arrived yesterday at around noon.   I was too pumped up about the trip to sleep the night before the trip and we had a very early flight out, so I just stayed up all night, caught up with a few things I needed to do, and we were off to the airport.   The flights went quickly (I slept the entire way on both legs; after the 20 ½ hours it took to get to Chongqing a hop to Utah seemed like running to the store to pick up a newspaper).
I had never seen the Great Salt Lake and I always wanted to.  I had the AAA road map (one of the best parts of being an AAA member is the their road maps).   It looked like a big ocean on the map, so I pointed our rental Chevy north and then made a left when my dead reckoning told me we ought to be nearby.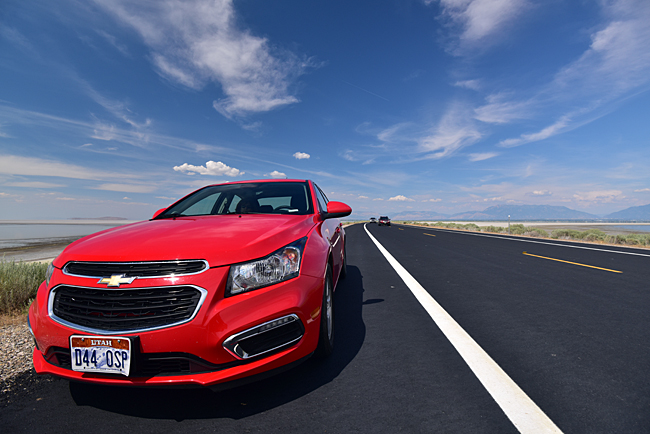 No dice.  We ended up in a suburban housing development, of which there are apparently many in the Salt Lake City area.
I studied the map again and saw Antelope Island, which looked like it was well into the Great Salt Lake.   All righty, then.   Round two and we struck pay dirt.  It was only $5 to get in if you're a senior citizen (Susie laughed when the young lady in the ticket booth didn't even ask for proof I was over 62).   Such a deal!
The Great Salt Lake is not a single lake…it's more like a couple of low lying lakes (maybe even more) surrounded by salt flats.   Susie found a radio station (there was a sign as we entered Antelope Island telling us the AM frequency), and it was really interesting.   The place is beautiful.
At my first stop to grab a few photos, I wanted to walk into the weeds to get a better shot.   I'm not sure why, but I looked closely and saw a single strand of spider web.   I looked a little more closely and…
Wow!  There they were.
Spiders.
Big spiders.
Lots of them.
Yecch.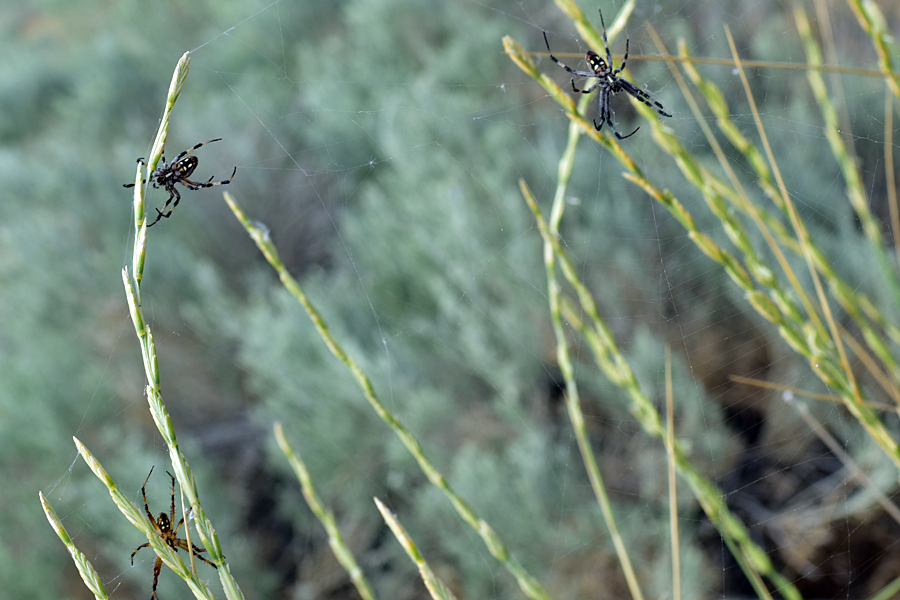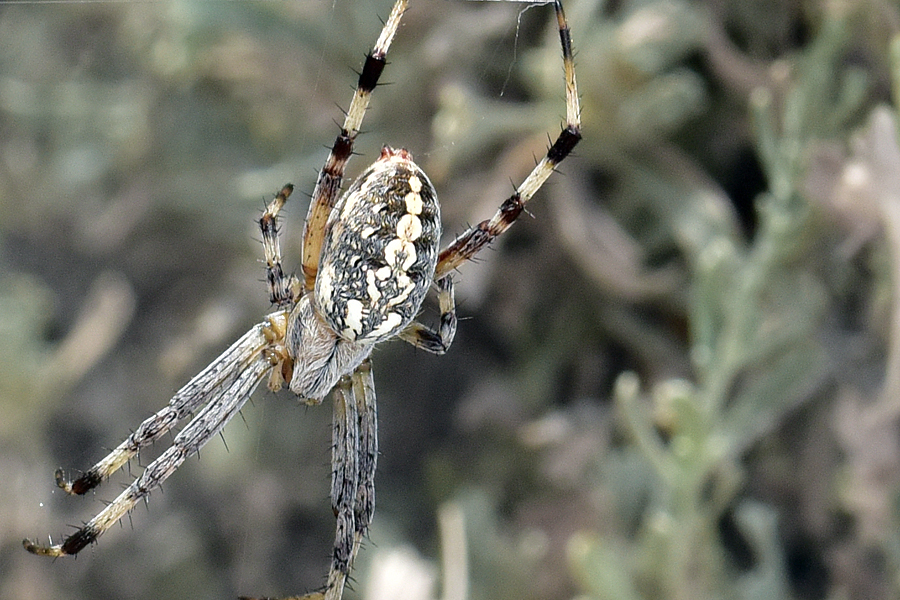 Surprisingly, these little bits of nastiness did not figure into my dreams last night.   I don't much like spiders.   Steve likes them even less.  I'm enjoying my morning cup of coffee right now thinking about Steve reading the blog this morning and seeing these photos.
I looked the spiders up on the Internet, and near as  I can figure, they are called common garden spiders.  They are supposed to be completely harmless to humans (at least physically; psychologically, these things are bothersome).   The good news?     According to the Internet, these spiders die off with the first frost.  That can't happen soon enough, as far as I'm concerned.
All right, enough with the spiders.
There's a lot more to the Great Salt Lake, including incredible panoramic views and the great American bison.    Good stuff, to be sure…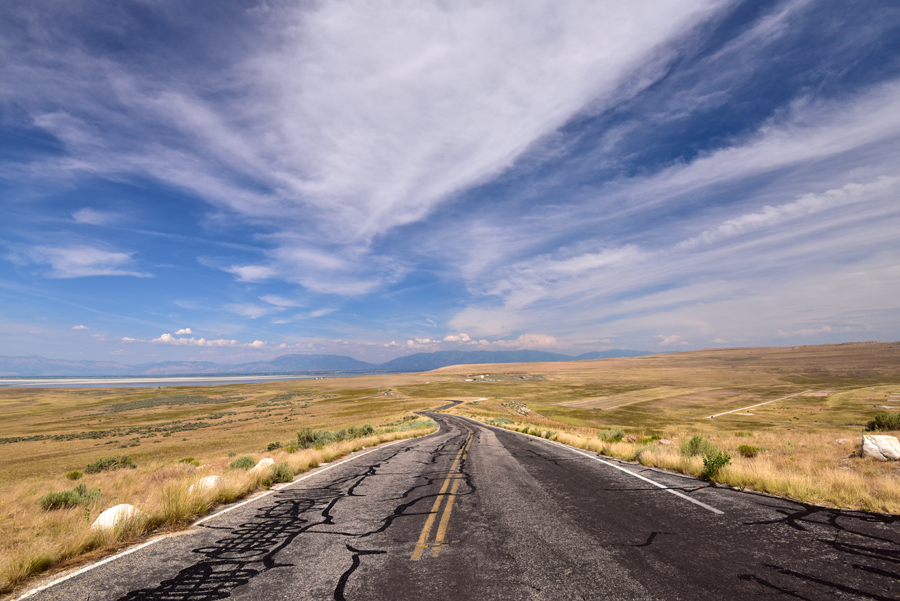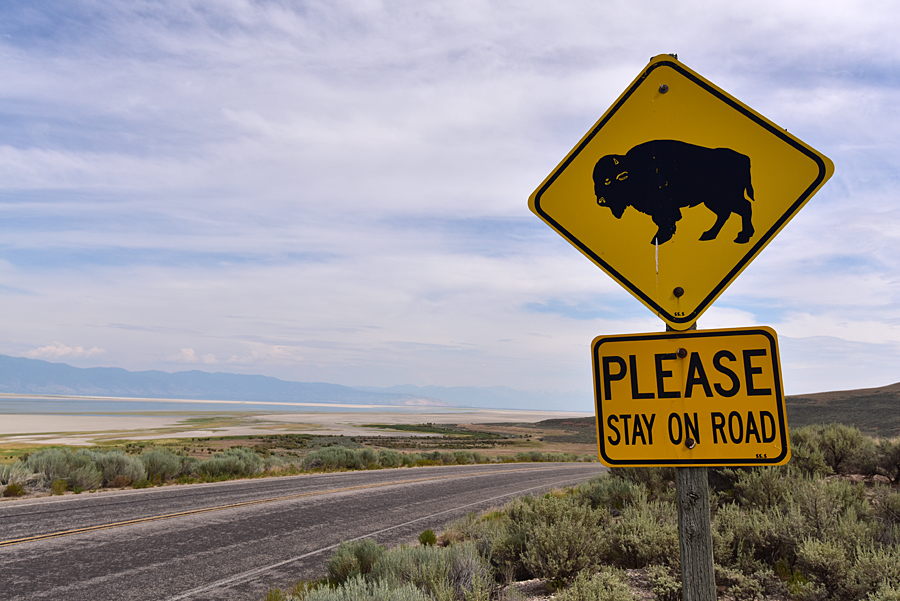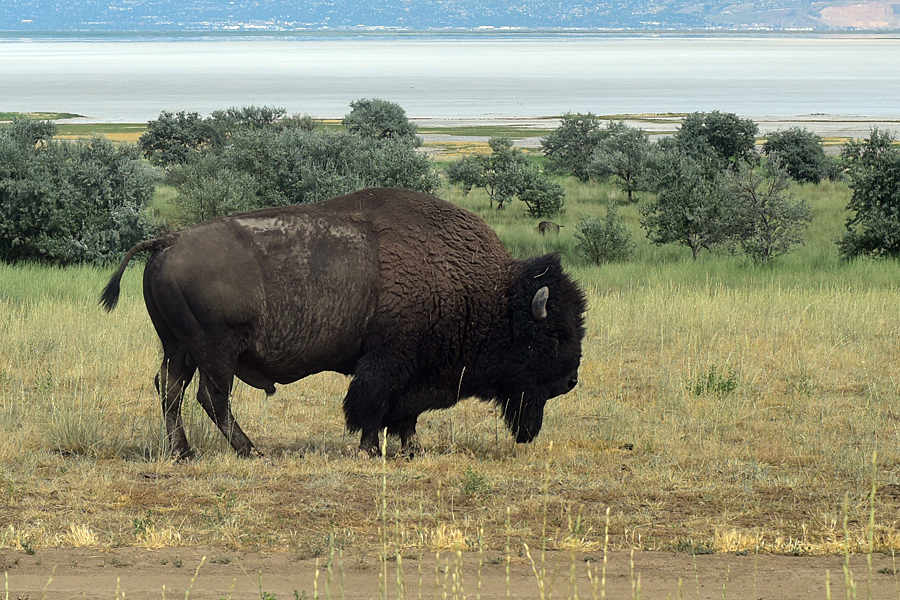 If you look very carefully to the right of the red mountain in this next photo, you can just make out the Salt Lake City skyline on the opposite bank…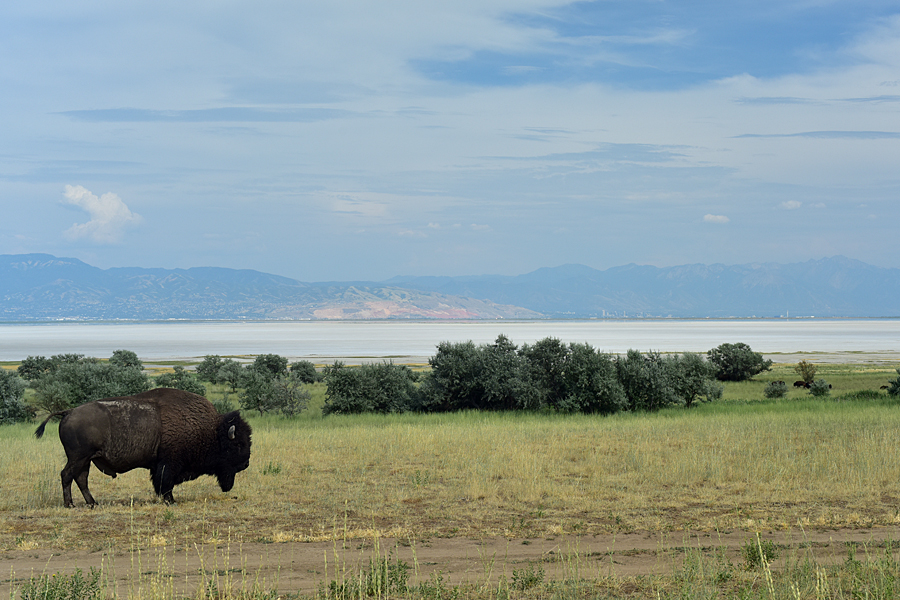 And a few more glam shots…I gave the 16-35 lens a good workout yesterday afternoon…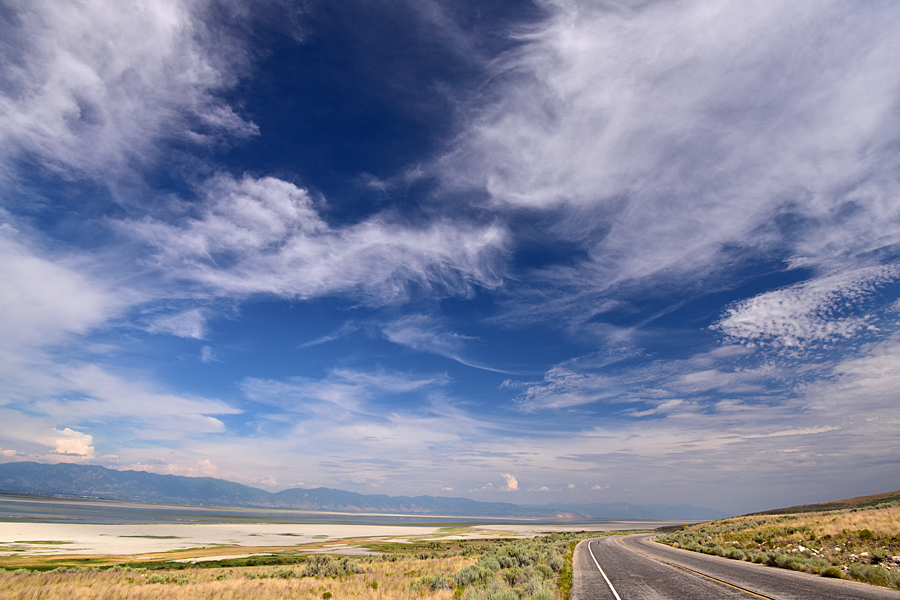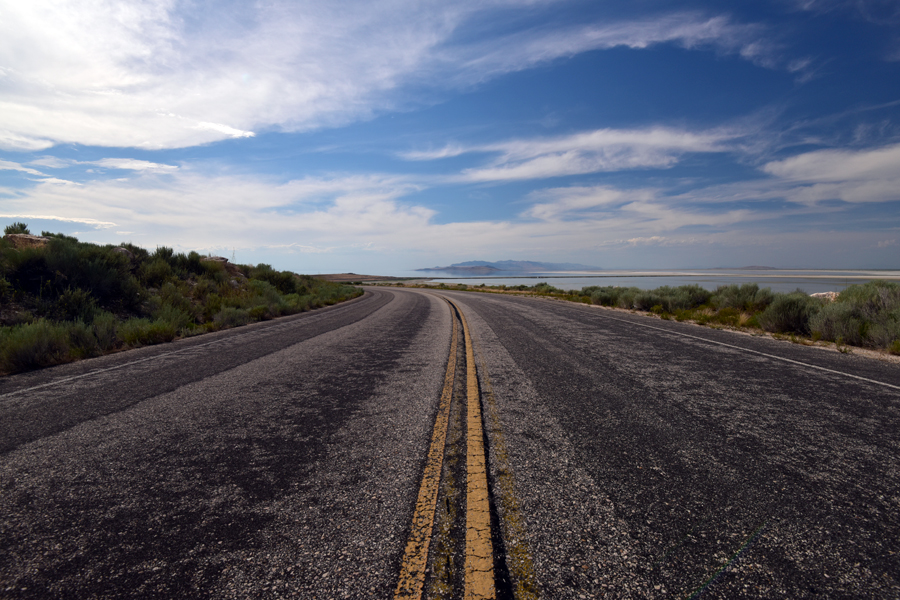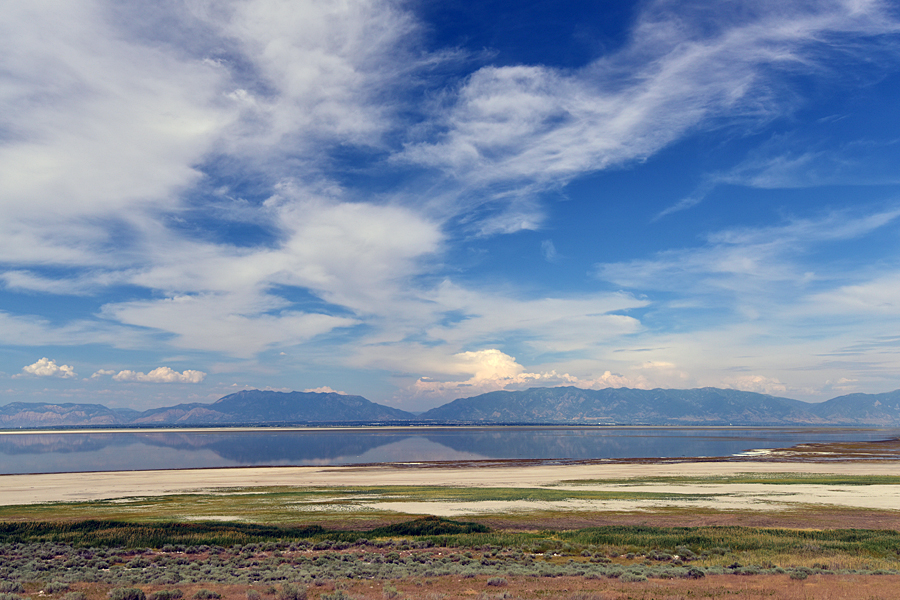 Antelope Island is a beautiful spot, and now I can say I've seen the Great Salt Lake.   It's awesome.   If you ever get out this way, this is a dynamite way to spend an afternoon.
We've got a lot more good stuff coming up, folks, including a bio sketch and photos of the Chinese riders who are riding their RX3s with us on our great Western America adventure ride (which starts in just 10 days!).   We'll be rolling through Utah on that run, too.   To my friends in China who are reading this, don't worry…we'll avoid the spiders!