Fireworks, hot dogs, and good times….we hope everyone is having a great 4th of July.   Hey, a bit of advice…get out and go for a motorcycle ride!   Here in California, the weather is perfect!
I had an interesting article in my newsfeed this morning.  It's a history of the 0 to 60 times of America's favorite (and only) sports car, the Chevy Corvette.  Here's the link to the article, and because I thought it was interesting, I plotted the 0 to 60 times in an Excel graph….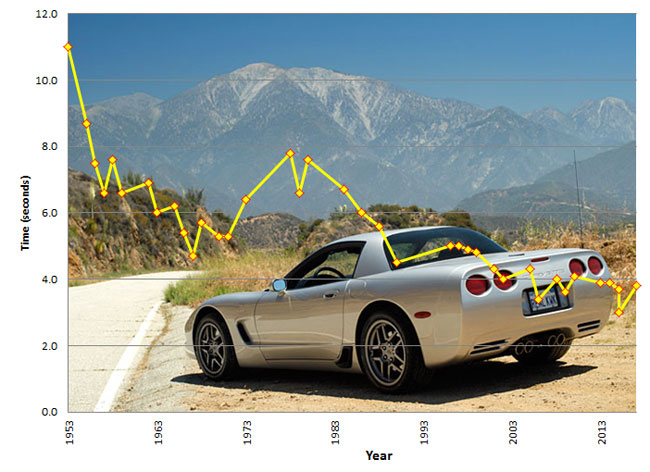 It's an interesting display.  The first Vette, the 1953 model with a 6-cylinder engine, had a 0-60 time of 11 seconds.   The next 60 years would see the Corvette's 0 to 60 times drop to roughly a quarter of the 1953 number, which incidentally put the 0 to 60 time for a $110K 2017 Z06 at about the same level as my 1997 TL1000S Suzuki (which was about 3 seconds flat).   The 1970s were the Corvette's dark ages (the Claybrook era), and then times turned south again as engineering overcame the bureaucrats' best efforts.   The article and the times are a little misleading as the data mix the most extreme performance models (the ZR1, the Z06, and the mid-60s big blocks) with the regular Corvettes, but you get the idea.
The Excel chart is pretty cool, too. Excel allows for including a photo as the chart background, and that's what I did here.  Cool stuff.
Well, I'm off.  There's a car show in town up here in northern California and I'm going to grab a few photos.  This retirement business can be exhausting, I guess…