…or so the saying goes.   Another one might be, "screwed again."
This all started 4 days ago, when the tire low pressure indicator lit up my Subie's dash.   Thinking it was just a case of the tire going low after a few months of neglect, I pumped up the left rear tire and drove up to the bay area.  By then the tire pressure light was on again.  I didn't see anything, but I took it to a tire dealer and sure enough, there was a screw in the tire.  $40 later, a quick repair, and I was on my way.
The next day, while backing out near a curb in a crowded parking lot, I scraped the right front on a sharp edge.   Uh oh, I thought.  I didn't like the sound of it, and sure enough, I had ripped the sidewall on the right front.   It was holding air, but I didn't want to chance it.   Even though I had put new tires on the Subie just 2 months ago, I bought a new tire.   That set me back a cool $203, but you gotta do what you gotta do.   I won't take chances with tires.
And then, this.   Today, as I was leaving the Cal Poly Admin Building after completing my retirement paperwork, this was staring at me when I got back to my Subaru…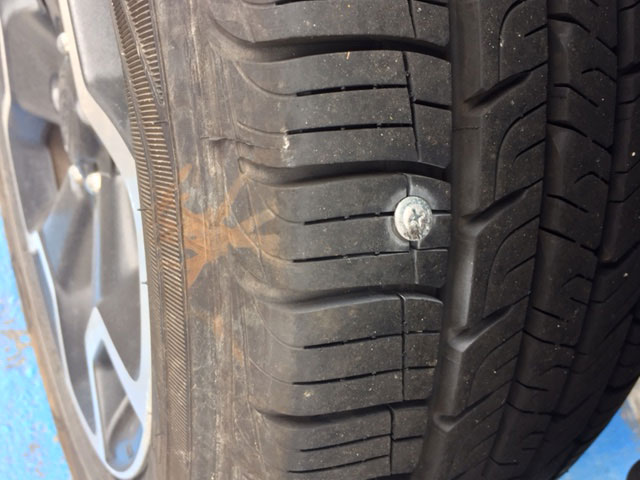 So here I sit in the customer waiting area of my local Big O tire store.   Time for another blog while I sit and wait for yet another tire repair.  Third time's a charm.  Let's hope!
Update:  Yep, the bad news is that screw you see in the photo above penetrated, and yep, the tire needed a repair.  The good news is the good guys at Big O didn't charge a nickel for the repair, and they had it done for me in less time than it took to do this blog (which, in case you ever wondered about such things, was less than 10 minutes).   I know where I'm buying my next set of tires…