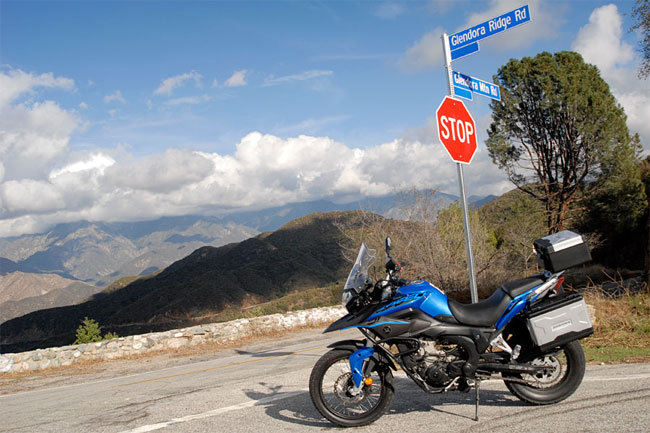 Blue is my color, boys and girls.   I made that decision today.   Blue photographs well, and Clement Salvadori helped me decide.   Let me explain how this came about.
Clement Salvadori is one of the world's great motojournalists.   I've been reading his work for years in different motorcycle magazines and books, so you can imagine how good it felt to learn that he had good things to say about the RX3 in this month's issue of Rider magazine…
Now, about that CSC Cyclone….a quite presentable 250cc single-cylinder version of an adventure-touring motorcycle, with saddlebags, small fairing, skid plate, and the rest.  For a very reasonable $3495.
Is a 250 too small to go touring?  Not at all.   My first bike was a 250, which I rode one summer over much of Western Europe, including the Alps.
When I first started exploring Baja, one of the books I studied was Clement's classic Motorcycle Journeys through Baja.   He knows more about Baja than I ever will, and I diligently read and reread what he had to say about this land of mystical  mountains and magnificent motorcycling.
Let me explain just a bit of the influence Clement's writing has had on me.   See that blue Triumph Tiger on the cover of Clement's book?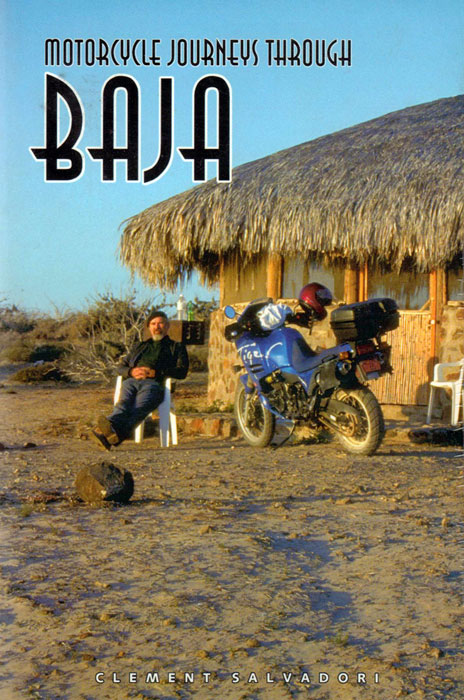 In the book above, Clement rode a first generation Triumph Tiger (the first generation of the modern Triumphs, that is), and that image of rolling through Baja on a blue Tiger stuck in my mind.
Blue became my color.   When I convinced myself I needed a Tiger, there was no question what color it would be…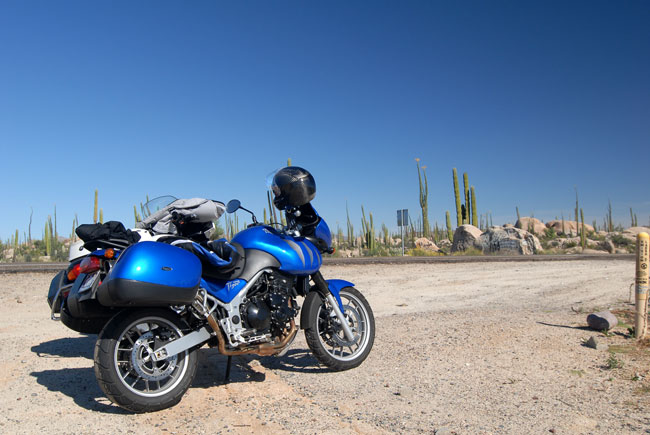 I thought about my inbound RX3 again and what color I want.   What else could it be?   Mine will be blue, unless, of course, we run out of blue bikes in this shipment.  In that case, one of you folks will get it and I'll take yellow…
So, back to Motorcycle Journeys through Baja.   Mr. Salvadori's book covers the entire Baja peninsula and many of its hidden wonders.   One of these is the Isla Del Carmen, a shipwreck off the Pacific coast of Baja's San Jacinto.   Most folks never see it (San Jacinto is way off the beaten path…you can't get to it without riding in the dirt).
Here's a scan of Clement's photo from the book…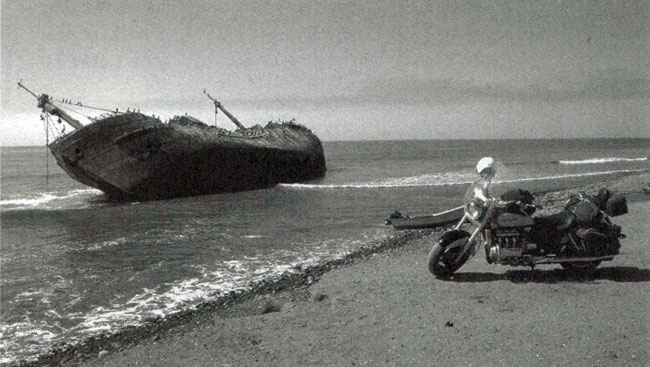 In 2009, my buddy Primo and I made the trek through the soft sand and dirt on our KLRs to get to San Jacinto (a place neither of us had ever been to before), and yes, I grabbed my own photo of the Isla Del Carmen with our bikes…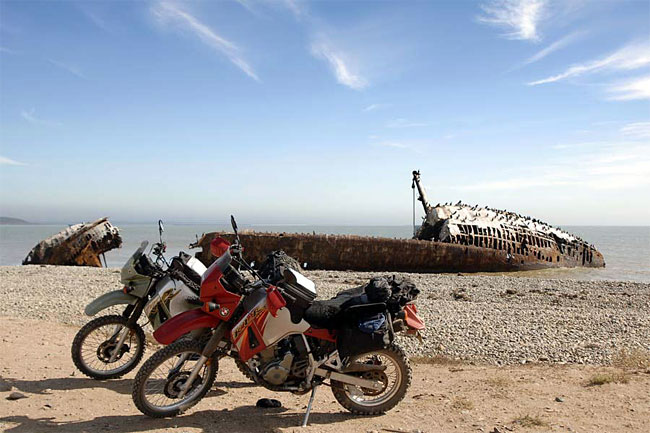 That was a hell of a ride (you can read about it here).  The high points were that photo above and a mean old Mexican dog who thought I was his dinner (yeah, I got bit).   Ouch!
I had a nice conversation with Clement yesterday, and trust me on this, I'm going to get him on the RX3.   Watch the blog, folks, and you may just see a photo of Clement Salvadori on your favorite motorcycle in my favorite place for an adventure ride (and that would be, of course, Baja).
In the meantime, make sure you pick up a copy of this month's Rider magazine.   You can read Clement's "Road Tales" column (in which the RX3 figures prominently), and it just so happens there's a nice article in the same issue about Baja.  If you really want to get the straight scoop on Baja, though, you should pick up a copy of Motorcycle Journeys through Baja.   It's required reading for those of you coming along for the Inaugural Baja Run with us.   Even if you're just thinking about joining us, Clement's book is a "must read" bit of first class moto literature.   You can order your own copy here.
Oh, and one more plug…remember those photos I put on the blog a month or so ago from Bisbee, Arizona?    I took that trip for Motorcycle Classics magazine (I write many  of their "Destinations" pieces), and you can read my article about Bisbee right here.    Make sure you pick up your copy of Motorcycle Classics magazine this month, too!