Sue and I stopped at the local Starbuck's this morning (I know, I know…please, no jokes…and no, I did not buy a BMW GS).  As we were walking toward the entrance, I saw this all original, super cool 1963 Dodge Dart…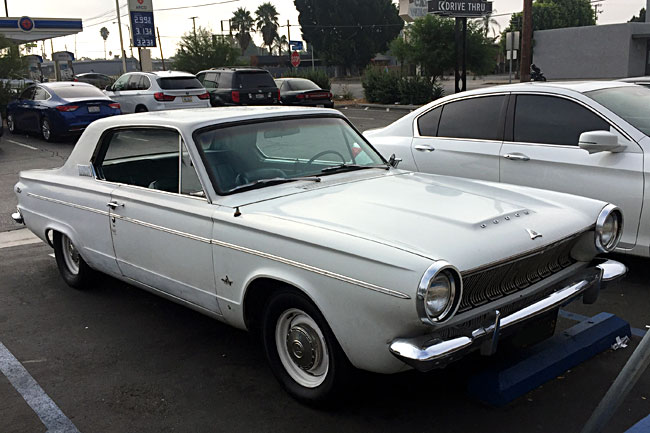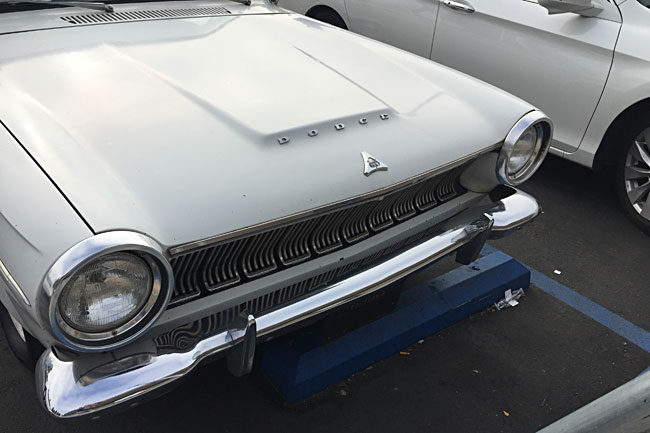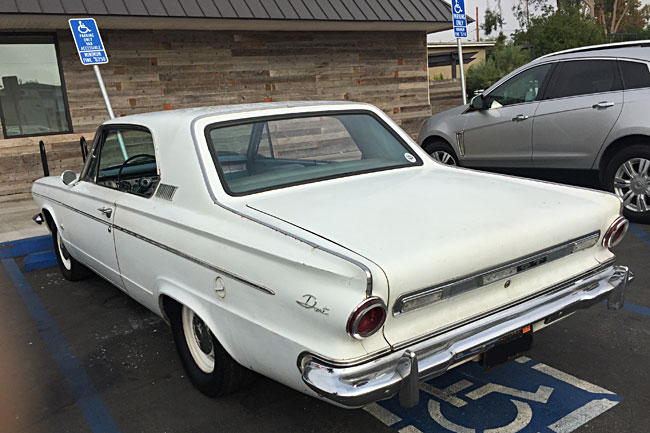 I really liked it, and while I was drooling over that old car, the owner sprinted out of Starbuck's and hopped in the front seat.  He was a young guy with a beard.  I guess you could say he was a hipster.  Or maybe he was going to an audition for a Smith Brothers cough drops commercial (let's see how many of you are old enough to get that one).   He was clearly in a hurry, but I asked him if it was a '62 or a '63.
"You're pretty good," he said.  "It's a '63.   Bought it 6 years ago and it was the best $2,500 I ever spent," and with that, he started the engine and was gone.  The car sounded great.
"Wow," I said to Sue.  "That sure is a cool car."
"You know why he was in such a hurry?" Sue asked.
"Yeah, I wondered about that," I said.
"He was parked in a handicap space, and he didn't have a handicap sticker," Sue said.
"Ah, I see," I said.  I missed that aspect of the encounter entirely.
More interesting stuff…we're boosting a Facebook ad right now featuring the Destinations Deal.   That's our upcoming October trip through California, Arizona, Utah, and Nevada.   When we first starting bringing the RX3 to America, we had our fair share of loonies posting negative comments on the bike strictly because it was Chinese and it was "only" a 250.   For the most part, the keyboard commandos crawled back under their rocks as the RX3 proved itself.   People experienced our superior customer service and our complete parts inventory.  Folks participated in our trips in the US, Mexico, Colombia, and China through the Internet (and in many cases by actually riding with us).
But we still get a few loonies and liars who pop up and post silly stuff.   We're polite, and many times that infuriates them even more.   The bike is only a 250?  Hey, read this.  The bikes won't go the distance?  Hey, check out our tours and read our books.  You can buy a used (fill in the blank with whatever motorcycle they bought used) for the same price?  Hey, no kidding, but then you'd have a used bike with no warranty.   The bike is Chinese?  Hey, nothing gets by these trolls, other than the fact that whatever they're riding already has significant Chinese content.
Logic and politeness doesn't always work, though, and after politely answering such comments with reasoned and accurate answers, a few of the trolls will post outright lies or become profane (usually they do both).  It's a very predictable outcome.  We just delete their comments and block them, and in a few cases, that ratchets them up even more.  Ah, well…it's the downside of using social media to get the word out, I suppose.  It opens you up to the world, and the world still has weirdos with WiFi.