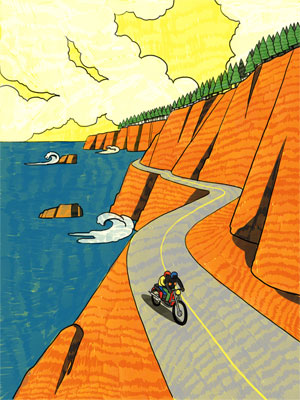 We take two newspapers on the weekends – The New York Times and the Los Angeles Times.   Both are hopelessly left-leaning and (in my opinion) both have degenerated into little more than propaganda machines.   But I need to read a newspaper on Sunday mornings, and like that old saying goes, halitosis is better than no breath at all.
The New York Times has good pieces on occasion, and I found one this morning while skipping through that paper's daily dose of endless hand-wringing on the outcome of the last presidential election.   It's written from the perspective of a female passenger on the back of a Triumph Bonneville.   The author, Joyce Maynard, tells the story well and I'm including a link here.   You should read it.
Spoiler alert…there's a sad ending.  But I still think Ms. Maynard's article is worth a read.   The message is this:   Get out and live.  If you're thinking of riding and exploring the world, do it now.   And hey, the Destinations Deal ride is coming up (click here to learn more).  We've got four people signed up so far, with not too many openings left.   I'd sure love it if you bought a new RX3 and rode with us.  Laughlin.  Oatman.  Death Valley.  Zion.  The Grand Canyon.  The ExtraTerrestrial Highway.  It's going to be great.