Preliminary planning for our California/Arizona/Utah/Nevada ride is shaping up nicely, and we've got some great things in store for those of you who opt to ride with us.  We don't know if we're going to call this the Destinations ride, the ET ride, or maybe just the Autumn ride.    But we have a hell of a deal on a new motorcycle if you buy one for this ride, and we're calling that the Destinations Deal.
We're planning on riding the third week in October (it's the soonest we can do it).  That rules out the stretch from Bryce to Capitol Reef (it gets too cold at the higher elevations and it would be impossible to ride that far east and back in the amount of time we have available).  So, here's what it's looking like so far…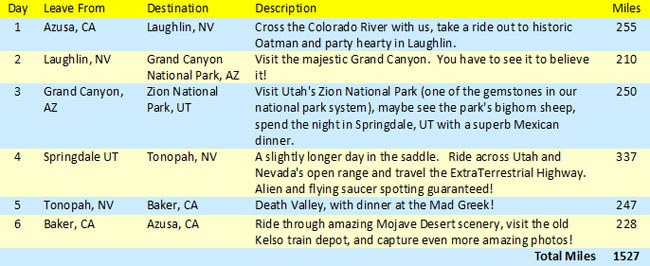 We'll ride from Azusa through California's Mojave Desert to Laughlin, Nevada on the first day, with a stop that afternoon in historic Oatman, Arizona.   It's beautiful country and you'll love the scenery.
Day 2 will bring us to the Grand Canyon.   They didn't call it Grand just because they were getting paid by the adjective.   It's one of our greatest National Parks.  When I was there with our guests from China, we actually had an elk walk right up to us.  I've been there several times and I'll never pass on an opportunity to see it again.
From the Grand Canyon, we're off to see another one of the greatest places on Earth:  Zion National Park.   Zion is incredible and there's a little Mexican restaurant in Springdale (just outside of Zion) that's superb.
Day 4 will take us through the Utah and Nevada mountains and plains to Tonopah.  It's one of our longer days at about 350 miles, and you might be wondering:  What's in Tonopah?  Well, not too much, but we'll be riding the entire length of the world famous ExtraTerrestrial Highway.   You may just run into someone you weren't expecting to see, and if he's a little green guy with antennas popping out of his noggin, don't say I didn't warn you.  Hey, the ExtraTerrestrial Highway on an RX3!  Could it get any better?
Well, yes, it can, and that brings us to Day 5.  We're going to run the length of California's Death Valley, another locale with stunning views.  We'll spend the night in Baker, home of the world famous Mad Greek restaurant, where we'll have a fine Mediterranean dinner.  I love that place.
Our last day on the road will take to the historic train depot in Kelso, we'll ride through more of the magnificent Mojave, and from there it's on home to Azusa.  Oh, one more thing…I know the owner and founder of the Del Taco restaurant chain.   When good buddy Ed sold the business, he kept the three original Barstow Del Taco restaurants.   Ed still personally runs those three spots and if you want a burrito that is the mother of all burritos…well, trust me on this one, too, my friends:  It's as good as it gets.
You know, as I was planning this ride, I became more and more excited about it.  I realized I have been to and thoroughly enjoyed every one of these spots, and then I realized, hey, I wrote "Destinations" articles about each for Motorcycle Classics magazine.   If you want a preview of what you're going to see, here you go…just click on any of the links below!
It's going to be grand, and like all of our tours, we're doing it for several reasons.
We like to ride our RX3 motorcycles.  Hey, you already knew that!
We're not just selling motorcycles.  We're selling the adventure riding experience!  Well, actually, we're not selling the experience…that's free.  Yep, we're not charging anybody anything to ride with us (you'll just have to pay your personal expenses as you incur them).  Compare that to what you'd pay for a 6-day motorcycle tour with anybody else.  You might look at it this way:  If you were to buy a new RX3 just to go on this tour, it's almost as if you're getting the motorcycle for free.
And on that topic, if you don't have an RX3 motorcycle, this is a great time to buy one.  If you already have an RX3, good on you!   But if you don't and you've been thinking about it, and if you want to participate in one of our grand adventure tours, this is your opportunity to jump in.   We have a small number of 2017 RX3 left motorcycles and they're not going to last long.  If you want a killer deal on a brand new RX3, give us a call at 909 445 0900, tell whoever answers the phone you want to ride with us in October, and tell them you want the Destinations Deal.   But you have to act quickly.  When the 2017s are gone, they're gone!