It's been an exciting 8 days on the road and like that rockabilly song goes, we're going to make it home tomorrow.  We did a long 525 miles of freeway slogging today made worse by having to duke it out with the inbound Denver traffic headed south on I-25 this morning, but once we were through that, it was an easy run west on I-70 through the Colorado Rockies at elevations as high as 11,000 feet.   Before we knew it we were in Utah, and the scenery in that state is (in my opinion) the best in the country.   This is typical of what you can see from I-70 in Utah….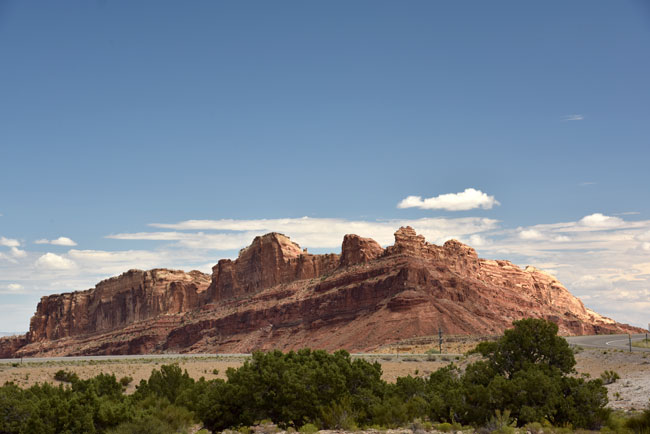 Utah is awesome…beautiful combinations of red rock, green grasses and trees, and yellow, gray, and white formations.  I have never had a bad time traveling in Utah, and I am looking forward to our October Destinations Deal tour.  If you're thinking of joining our ride, the time to act is now.  Don't wait, or your slot may be occupied.  I'm trying to keep this group smaller than our Baja runs, as we'll be covering some serious miles.
We decided to call it a day today in Richfield, Utah, which means we have another 518 miles to go tomorrow.  We won't have the Denver traffic to fight so it should be a lot easier drive than what we experienced this morning.   And Richfield (population 7,700) is a nice little town.  We found a small barbeque place for dinner (Big Daddy's) and I think it was the best meal of our trip.  I had the smoked chicken sandwich and it was great.  I need to find an excuse to get back here, and if you ever pass through this way, Big Daddy's is worth a stop.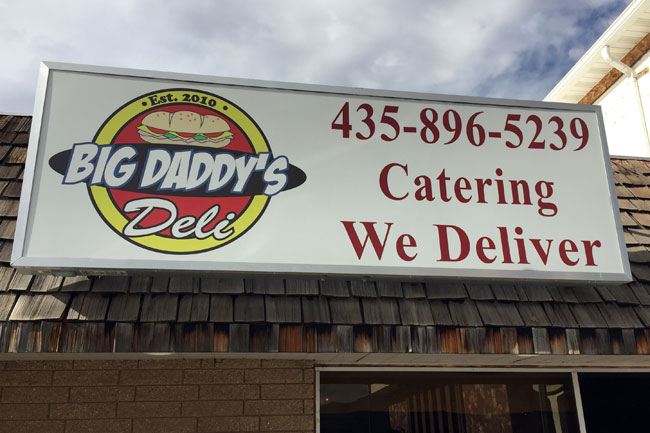 After dinner, we rode around town a bit to get a feel for Richfield.  Like I said above, with 7,700 people it's a small town, but we saw a sign for a motorcycle dealer who carries a lot of brands and we stopped to take a look.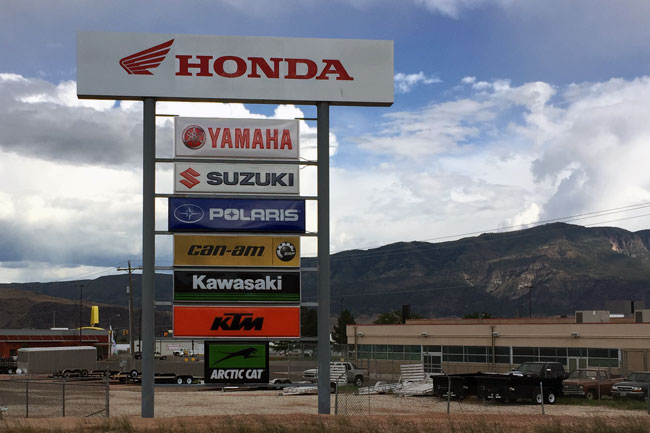 I thought I wanted to take a look at the Honda Africa Twin just because I'd never seen one, but I was really surprised when we walked up to the entrance…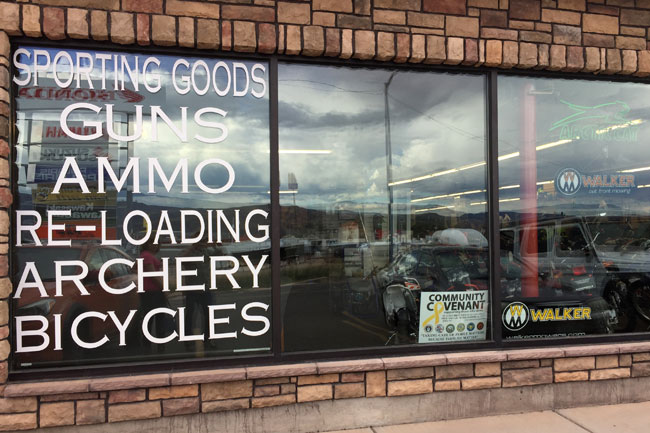 At first I thought I simply had the good fortune of finding a motorcycle dealer located next to a gun dealer, but when we walked into the motorcycle dealer I was in for a real surprise.  Jorgensen's (the name of this outfit) sells motorcycles, high end bicycles, guns, and reloading stuff.   They even have an adjoining bowling alley and restaurant.  I looked at their guns and they have a fantastic selection (more than most dealers).  They had more reloading components than most gun stores in So Cal.  Motorcycles, guns, reloading gear, bicycles…I could maybe spend the rest of my life in Jorgensen's and die a happy man.  Sue and I chatted with the owner a bit, I sat on the Africa Twin (it's enormous, but not nearly as ponderous as a GS1200), and we finally had to leave.   It was tough walking out that door, though.
Tomorrow we'll be wheels in the wells early, homeward bound.  It's been fun.