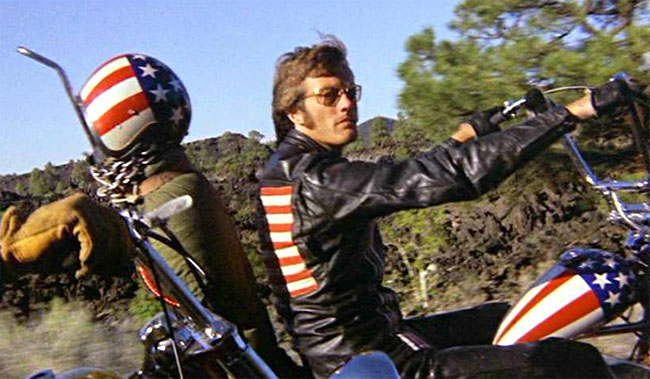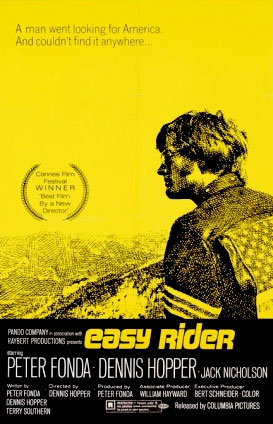 Yep, it may be hard to believe, but Captain America is 72 years young today!
Do you remember the first time you saw Easy Riders, the movie that popularized the chopper concept, led to a whole raft of extended front ends, became an instant counter-culture classic, and inspired what ultimately become the largest-circulation motorcycle magazine in the world?  (Yep, that would be Easy Riders magazine.)  The movie was a phenomenal success.  It hit the theatres in 1969. 
The color scheme on the Captain America motorcycle and Peter Fonda's helmet became instant classics, inspiring a bunch of imitations.   A company called Grant actually made a helmet back in the day with the same color scheme (I know, because I wore one riding around in New Jersey on my 750 Honda…I was Peter Fonda back in those days).   I think Bell Helmet still offers the Captain America helmet.    Wow, talk about classic design! 
One of these days, we've got to get around to doing a CSC Classic in the Captain America scheme…hey, why don't one of you guys order one like that so I can get some great photos of it!
I was 18 years old when I first saw Easy Riders (the movie), and like most of you, I was already heavily into motorcycles.  I didn't think the movie was that informative about riding or about motorcycles, but it's what probably planted the bug in me for extended motorcycle road trips.  I've done a lot of long range riding since seeing that movie (none involved drug smuggling or even drug use, a central Easy Riders tenet), but the appeal of living on the road and rolling cross country was irresistable to me, as I'm sure it is for you.
When Easy Riders magazine was launched (the first issue was in 1971), it was a pretty interesting publication.   To my knowledge, it was the very first chopper magazine.  Unlike other magazines, it didn't feature new motorcycles, motorcycle specifications, or road test results…Easy Riders magazine's focus was custom Harleys and girls, with racy photos of both.   Pretty heady stuff 40+ years ago. 
Wanna know a secret?   Easy Riders magazine was the first place I was ever published.  Yep, I wrote short stories for that publication for a few years under the pen name Jack Starbuck.  It sounds funny now, but I got my start writing under the Easy Riders banner.
So, back to Peter Fonda.  I actually saw him in person a few years ago one day when I stopped by Oliver Shokouh's Glendale Harley shop to pick up some parts for my old Softail.  I was walking around the side of the store when I saw Mr. Fonda walking up the sidewalk.  I said hello to him, he said hello back, and that was that.  I told everybody I knew.   Who knows…maybe Peter Fonda told everybody he knew that he said hello to me.   Well, maybe not.  But it was still a pretty cool experience.  
Peter Fonda, an American icon.   Mr. Fonda, our best birthday wishes to you from CSC Motorcycles!  And hey, if you ever want to ride a California Scooter, just give us a call!  Come to think of it, that goes for all of you other Easy Riders out there, too!