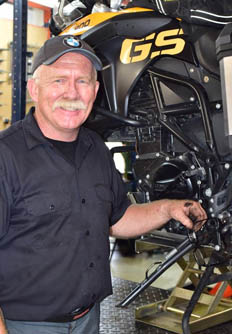 We're starting a new series of Tech Days here at CSC, and our focus is helping you learn more about keeping your motorcycle running. Gerry Edwards, our CSC Service Manager, is the guy leading the CSC Tech Days program. Gerry knows his stuff, he's been in the business 30 years, and he's an all-around great guy. Our Tech Days will focus on both preventive maintenance activities (oil changes, chain adjustments, etc.) and repairs.
More good news…our training is not restricted to any specific motorcycle. We service all makes and models, and our Tech Days are similarly open to everyone. It doesn't matter what you ride…we think the CSC Tech Days will be a great way to spend a Saturday morning, and there's no charge…it's free!
Our first Tech Day will be February 10 at 9:00 a.m. at CSC (1331 W. Foothill Boulevard, Azusa, CA 91702), and like the title says, the first topic will be Roadside Tire Repair. We ask that you send us an RSVP (write to gerry@cscmotorcycles.com to let us know if you're attending). We'll have coffee, donuts, and a special discount on parts, accessories, and service for anyone who attends!