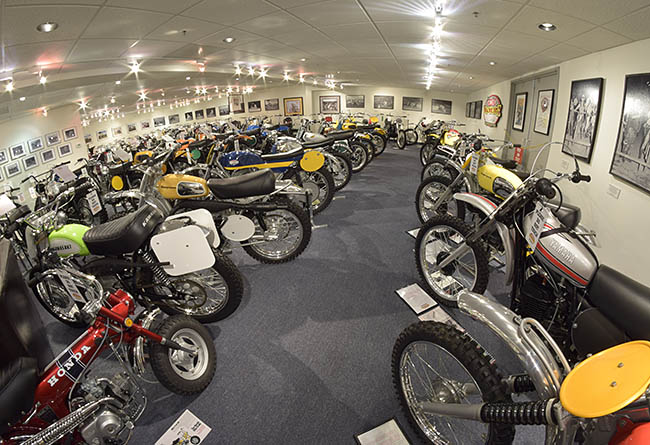 We had a great turnout for a great Saturday morning ride to a see a great motorcycle collection today.  Today's destination was the Owen Collection, arguably the finest collection of vintage 1960s and 1970s motorcross bikes on the planet.   Turnout was great, too…we had about a dozen riders.   You'll recall that I mentioned the Owen Collection here on the blog a few months ago.  I first learned about the Owen Collection while researching potential CSC ride destinations on the Internet, and after Susie and I visited this hidden treasure last year, I wrote a feature about it for Motorcycle Classics magazine.  It was an awesome visit (you can read the Motorcycle Classics piece here).
My Motorcycle Classics article is good (if I do say so myself), but there's nothing like seeing the Owen Collection in person, and that's what we did this morning.  Like I said, the turnout was great. We had our regular CSC Saturday riding group cast of characters show up along with a few more who found out about the ride on our CSC Meetup page.  You might want to keep an eye on that page (and the CSC blog, of course) to find out about the next ride.   I don't know what that will be yet, and to be honest, I'm a little worried about it.  It's going to be hard to top what we saw today!
Let me take a minute or two to introduce you to the fine gentlemen I had the great privilege of riding with today.
Here's Flip, who rides a Honda NX 250 motorcycle he's owned for a while.   I like that…another rider with an penchant for 250cc motorcycles.   Those of us who ride them know…it's the perfect size!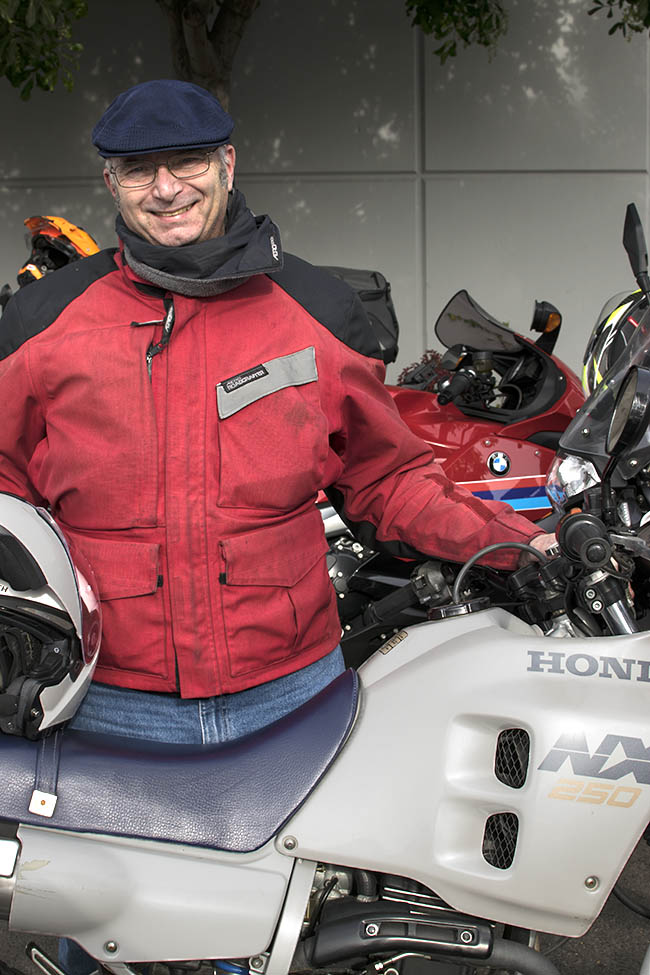 You'll notice that on our Saturday rides, you don't have to ride a CSC motorcycle…we welcome all makes of motorcycles and motor scooters.   We're big into classic bikes, too, and not just for visits to vintage collections like we did today.  Our service department does a lot of work on both modern and vintage motorcycles.  Our Gerry knows the vintage bikes well.
This is Tim, a new RX3 owner (and his RX3 is orange…the fastest color!).  Tim is one of the guys who's riding with us to Baja in March.   There's still time to get in on the 2018 Baja ride if you want to.   We are sold out of new 2017 RX3s, but we have two demo RX3s that are in amazing condition.  You should buy one and ride Baja with us!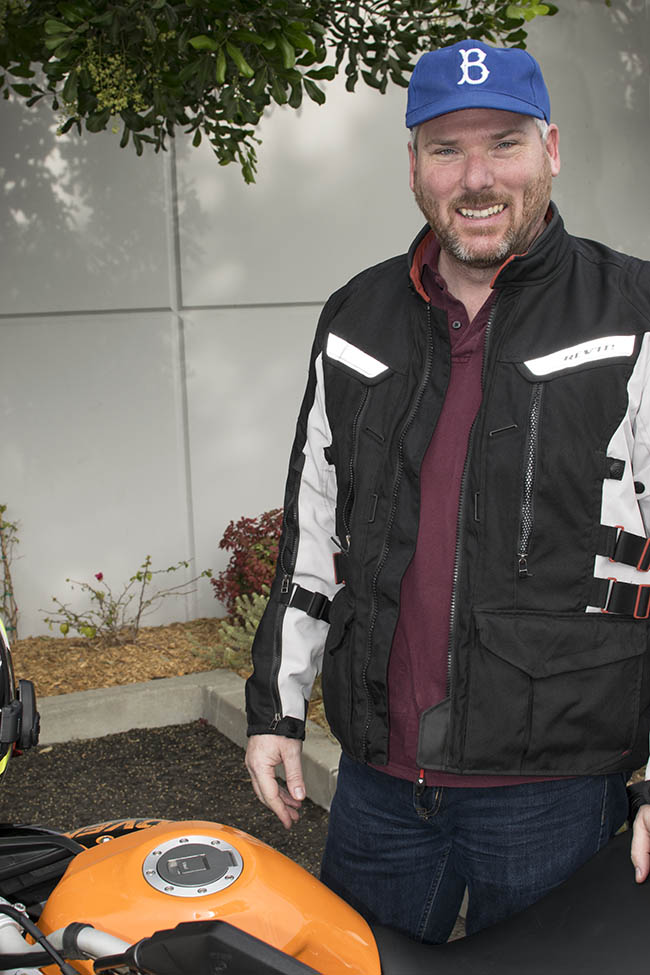 This is our very own TK.   TK has always been a Harley guy, but he saw how much fun we've all been having on the RX3s and he had to get one for himself…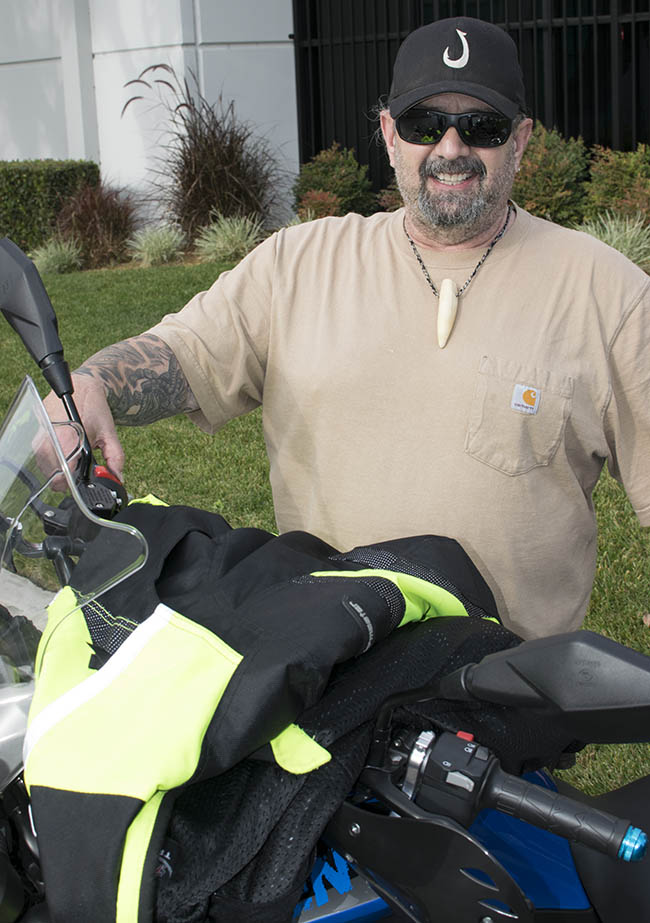 TK is a good guy.   I like him personally and I like riding with him.
Here's our good buddy Steve, who rides lots of different motorcycles.  Today he was on his GS1200 BMW.   He struggled with it a bit, but he's a great rider and he was able to keep up with us on our RX3s!  Steve is a regular on many of our Saturday rides and we enjoy his company.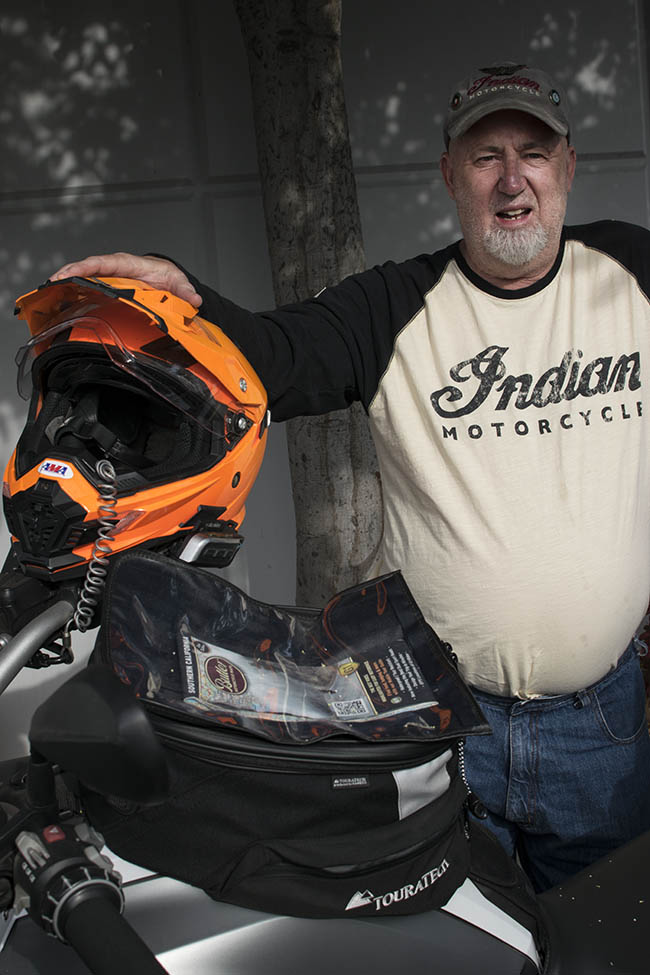 Today was Doug's first time riding with the CSC Saturday crew.   Doug rides a beautiful blue Tiger 1200 Triumph.  I used to ride a Tiger.   They're great bikes.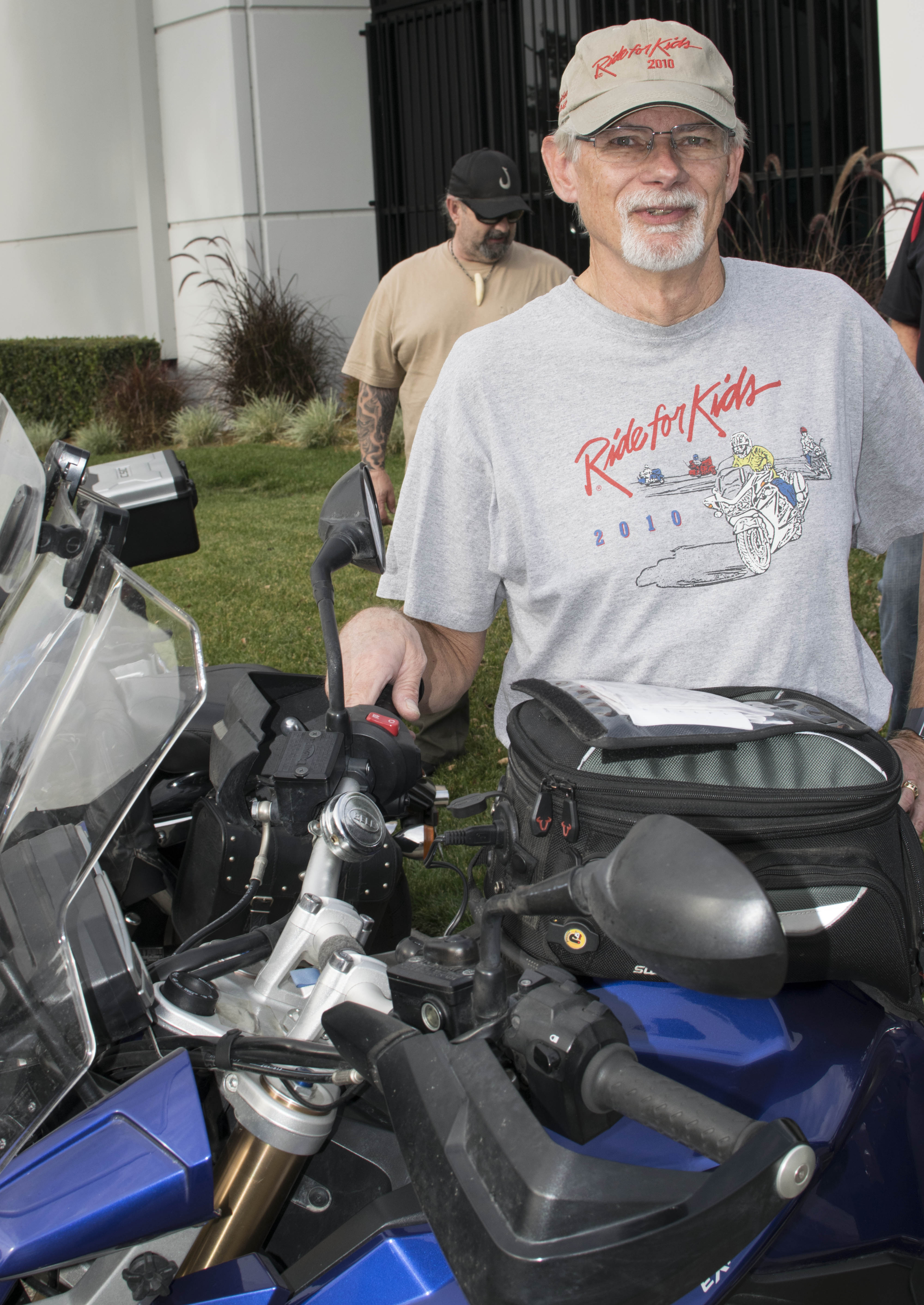 My good buddy Ponytail Joe rode with us today, too.   I've been riding with Joe for a lot of years in the US and in Baja.  Joseph was on his Honda Shadow today.   He's a cool guy.  I was once late showing up for a ride with Joe and he gave me a new watch so I could be more punctual.  I tease Joseph about that ponytail a lot.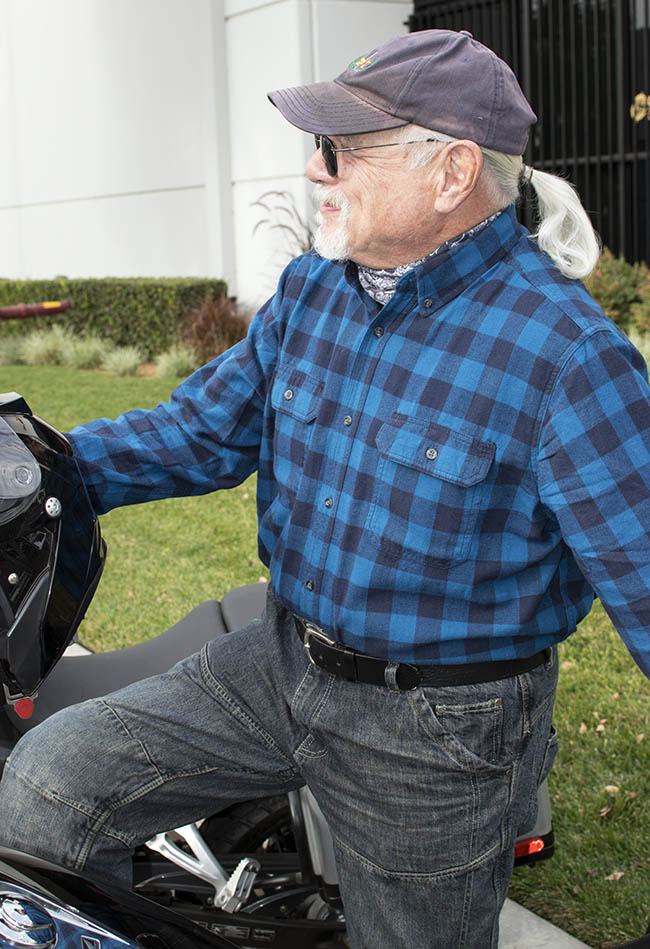 Ah, Roland Wheeler…what can I say.  You all know Roland.  He's the guy who campaigned an RC3 last season and took first place for the year in F Superstock class.   Outstanding work, Roland!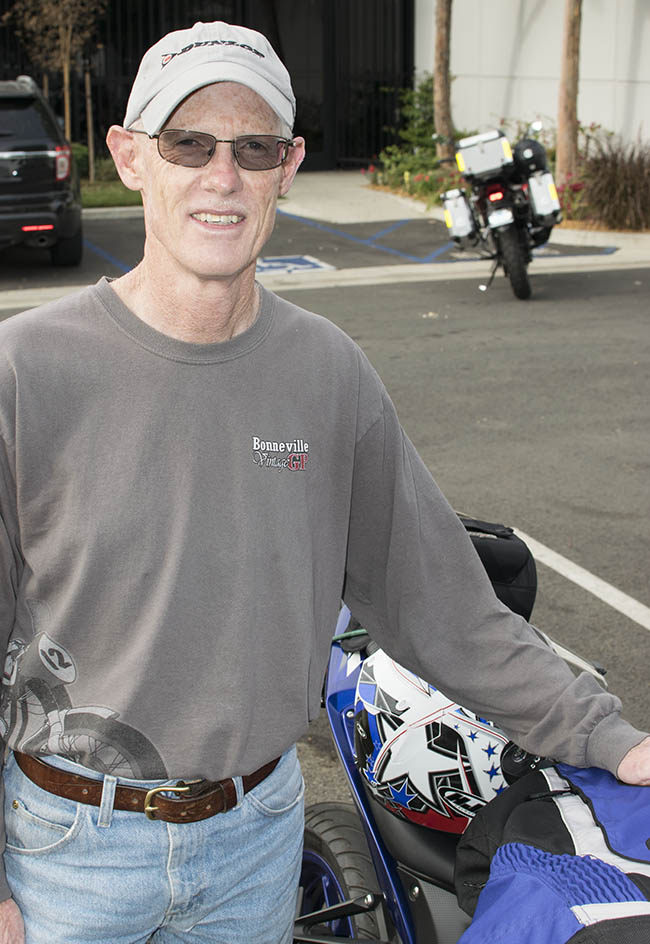 This is my good buddy Duane, with whom I've also covered a lot of miles.  Duane and I started riding together back in the California Scooter Mustang days.  He's a great guy and a fun guy to ride with.  I call him Santa Claus.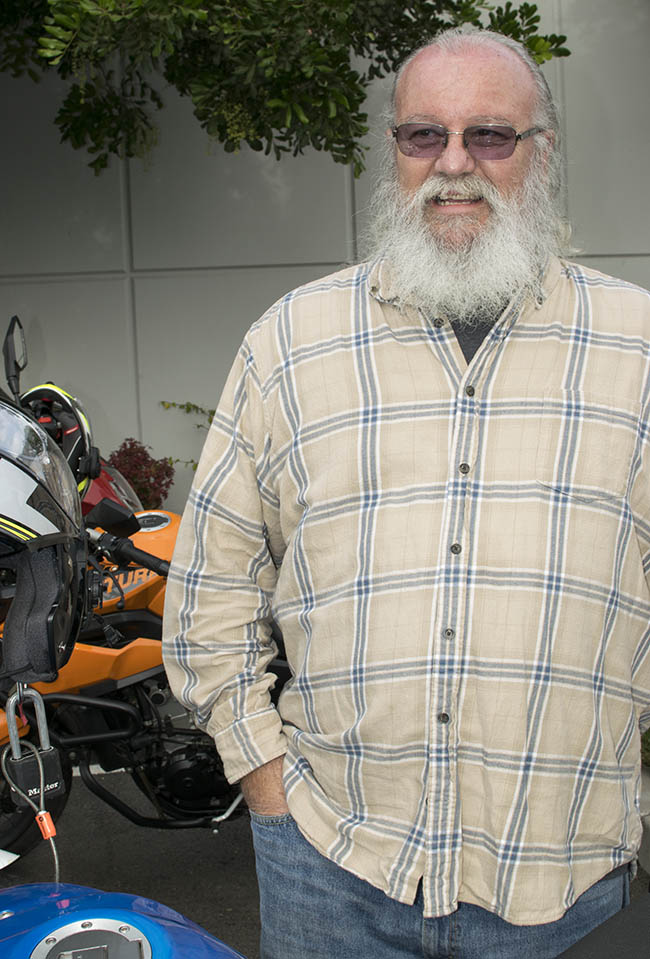 This is Dan, another BMW rider who rode with us for the first time today…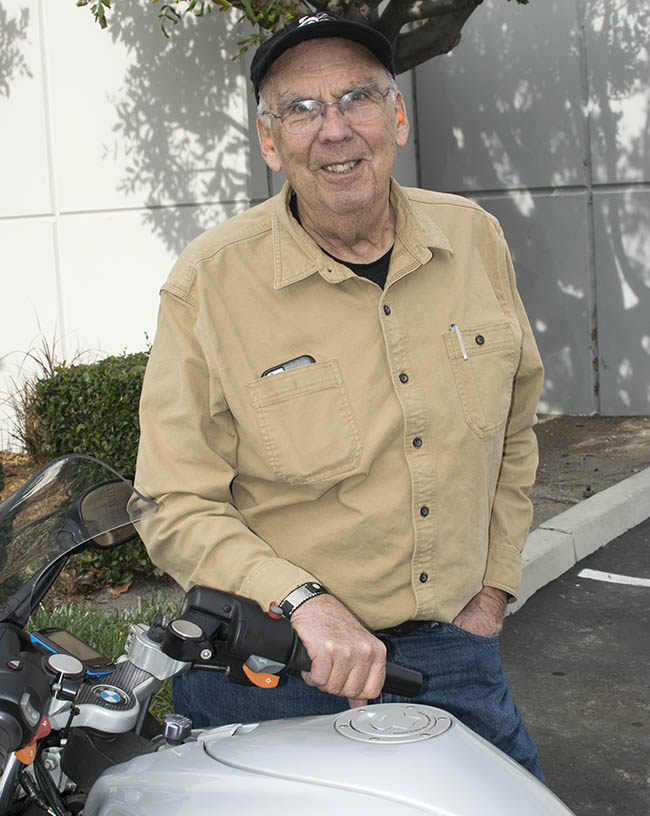 I liked Dan right away, especially when I saw the panniers on his Beemer.  This is a man who covers some miles!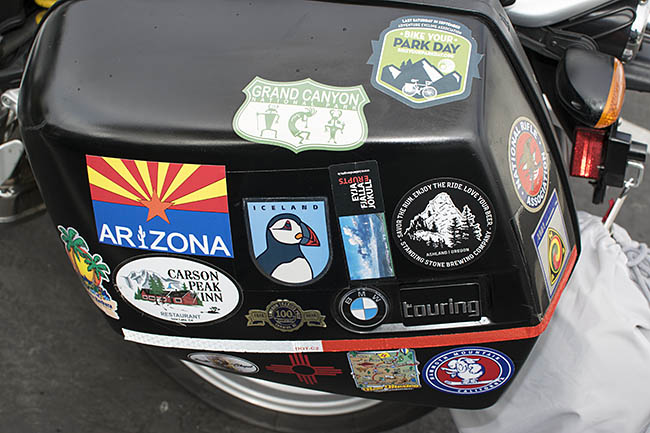 Here's our very own Steve Seidner, President and CEO of CSC Motorcycles.   Yep, Steve rode with us to the Owen Collection this morning, and Steve is the reason we are all able to ride RX3 motorcycles.   He's the guy who made the decision to import the RX3.   Steve is a great rider and a great writer…he wrote the Foreword for Moto Baja!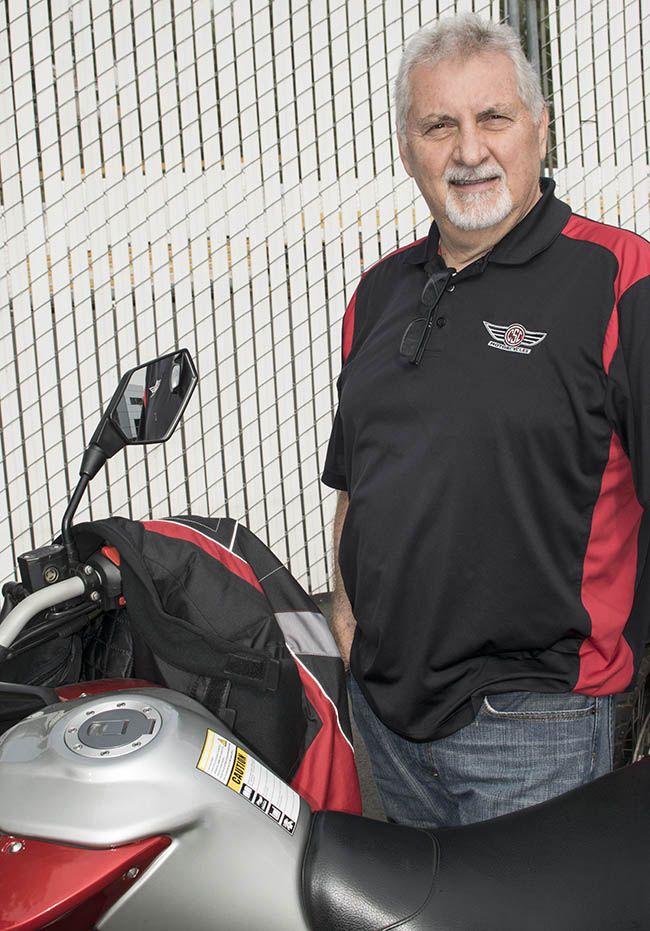 Incidentally, that stunning silver and red RX3 you see in the photo above (Steve's personal, fully-loaded, low mileage RX3) is one of the two 2017 RX3 demo bikes we have remaining.   It's a beautiful bike but it has to go to make room for the 2018 models.   Give us a call at 909 445 0900…that bike could be yours on the next CSC Baja run!
I kind of screwed up today and got us lost going over to the Owen Collection (even though I'd been there before).   The guys were all good natured about it.   It happens, I guess.   After I found the place, we were greeted at the door by David, the Owen Collection curator.  That's David on the left.  He's a great guy and he had stories about all of the bikes in the amazing collection we saw today.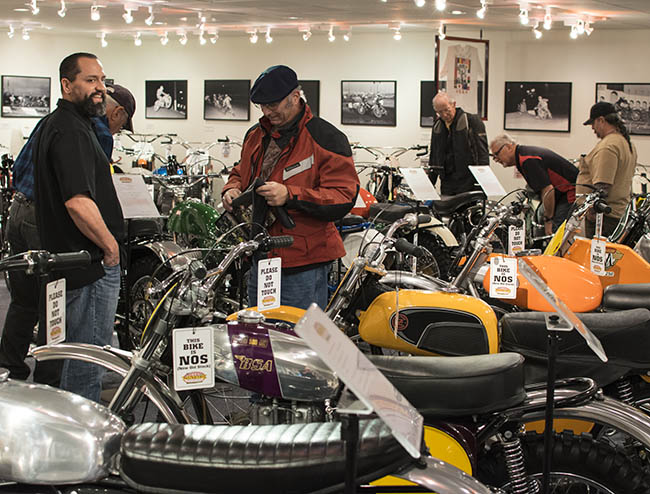 The Owen Collection is magnificent.  There's just no other way to describe it.   The guys were blown away when they saw it.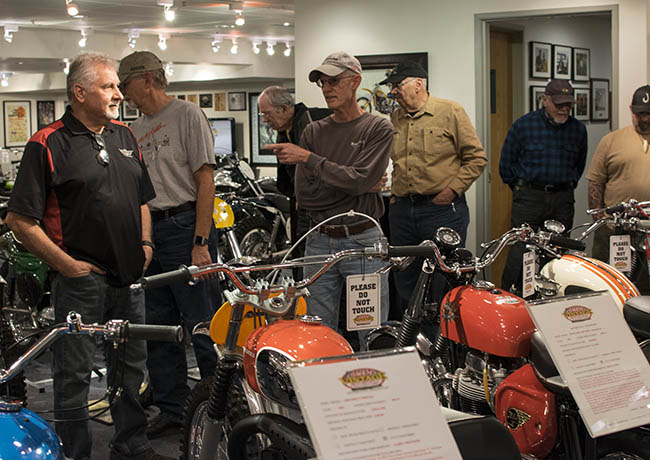 This is an extremely rare, extremely early Suzuki motocrosser.  It's beautiful.  David told us that one of the challenges in doing restorations is to not "over restore" the bikes.   The intent is to make them look like they did when they were new.  This bike was jewel-like in its appearance.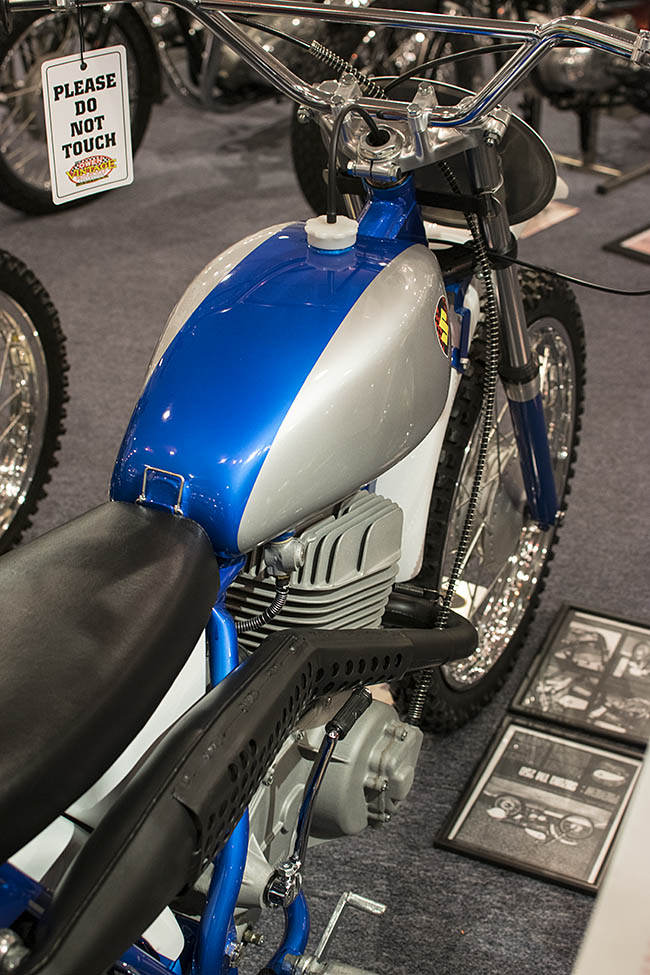 This is a very cool BSA Catalina Scrambler.  This is art, folks.   We were all in awe this morning.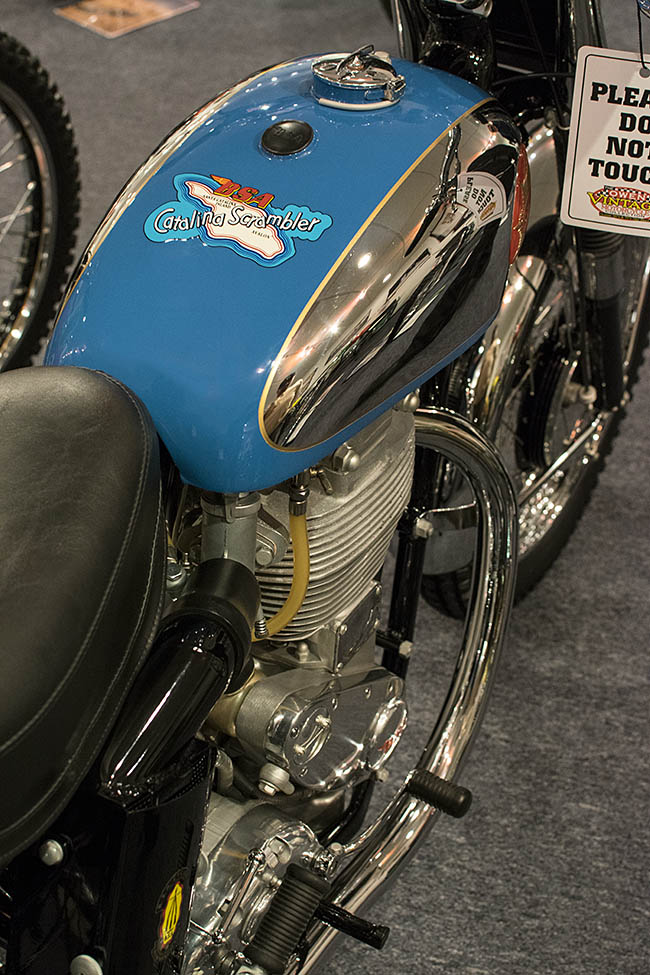 We were overwhelmed by the extent of this collection.  By the way, that's my good buddy Marty on the right in the photo below.  Marty is another guy I've been riding with for a long time.
Here's another photo of Marty.  It's fitting he's standing by a '65 Triumph TT Special.  Marty and I both came of age in an era when Triumph was the ultimate motorcycle.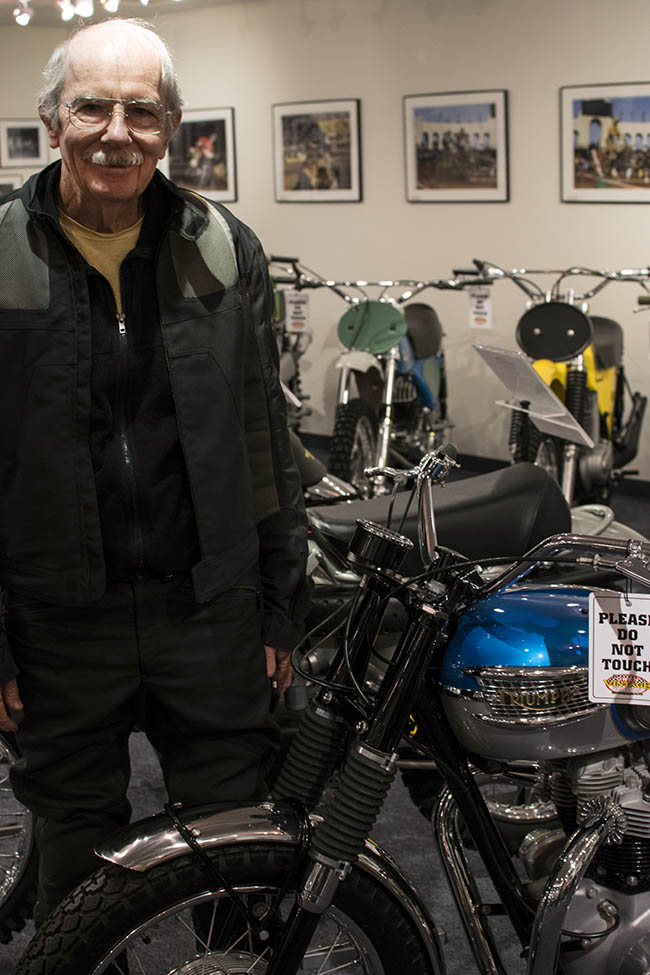 This is another magnificent British bike…the Matchless.   Duane is behind it, getting a better look at the engine.  The quality of the castings on these early British bikes is something to see.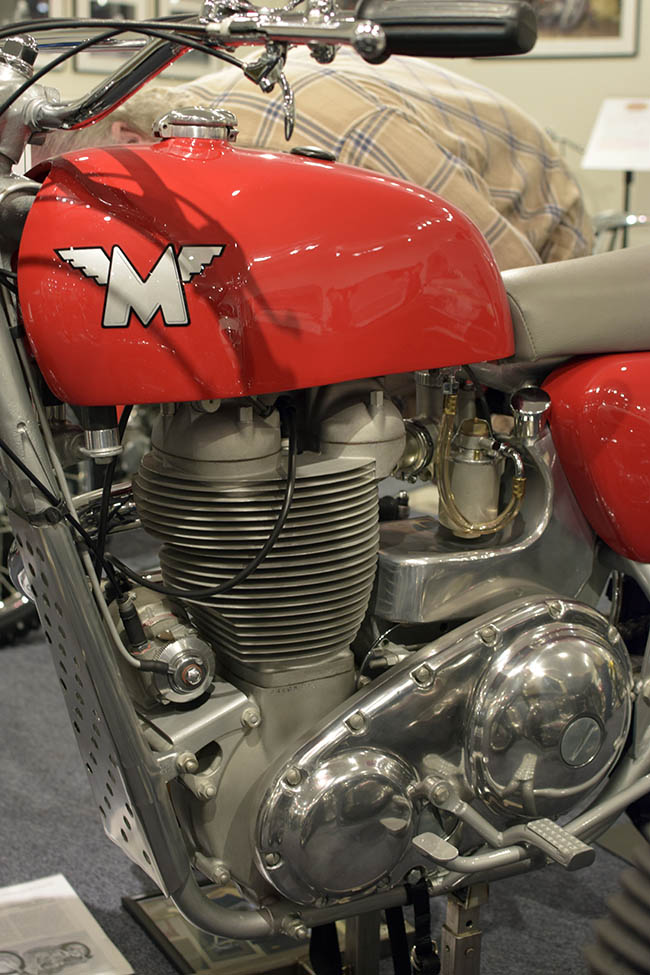 It's stunning, isn't it?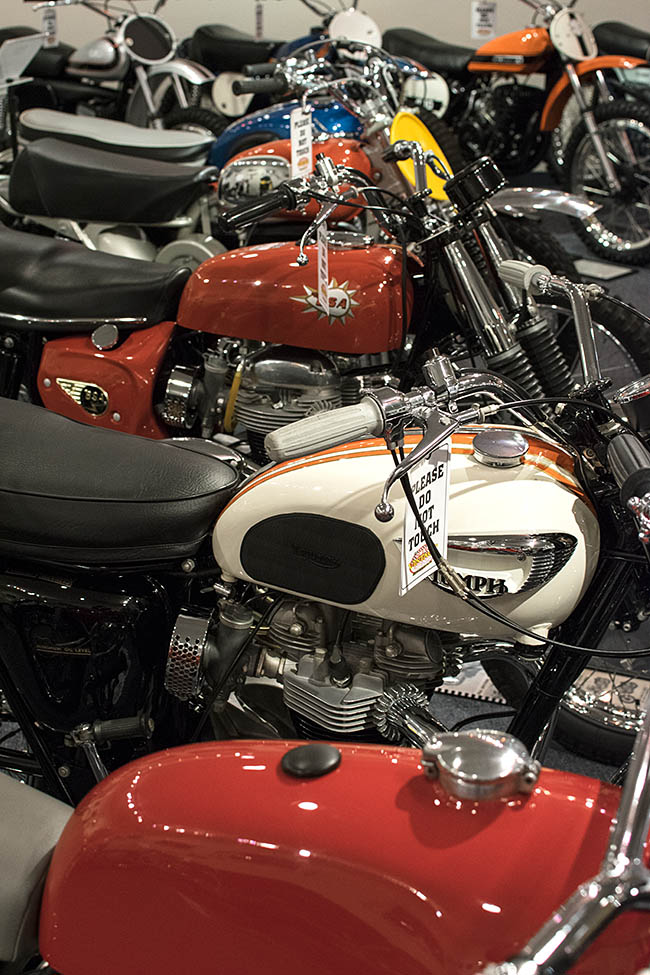 Check out the colors on this '66 Triumph TT Special.   You might see something very similar to this on a new CSC motorcycle, but I can't tell you any more about that just yet. Maybe I've told you too much already.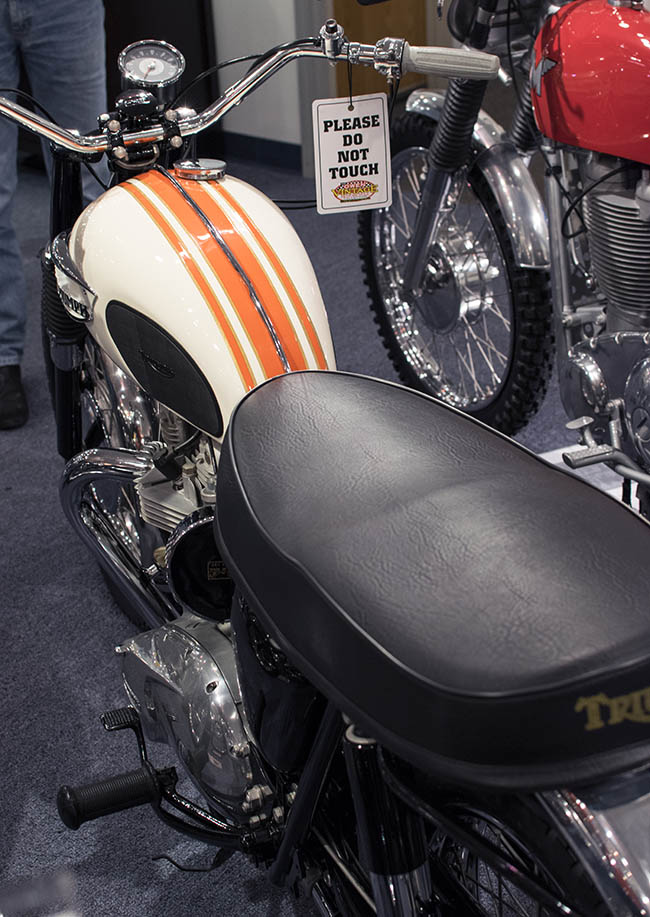 A macro shot of the Bonneville TT Special logo, with a BSA reflected in the gloss black paint…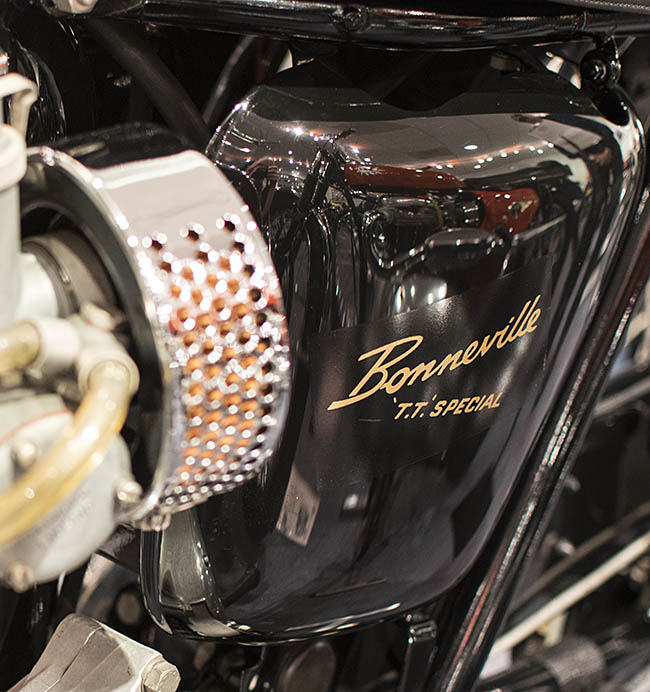 Many of these early motocross racebikes were two-strokes, and they were prone to fouling the spark plug.  The answer?  Hey, just have another one already installed in the cylinder head.  If the first plug fouls, just pull the spark plug wire and put it on the other plug!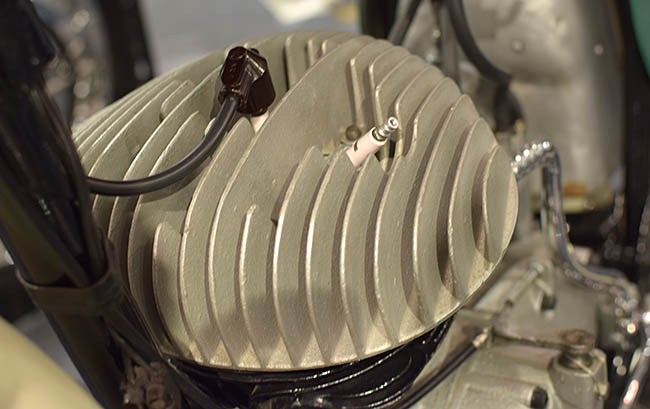 I love mechanical stuff like this.  Check out the left handlebar controls on this early BSA…that's an ignition advance lever on top, the clutch lever in the middle, and the compression release lever on the bottom!  Fly by wire, folks!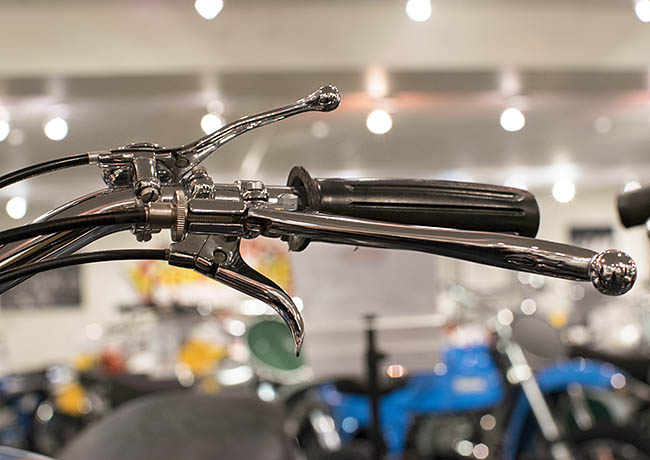 And one parting shot…that's my good buddy Duane and yours truly, as reflected in the chrome tank panel of BSA motorcycle!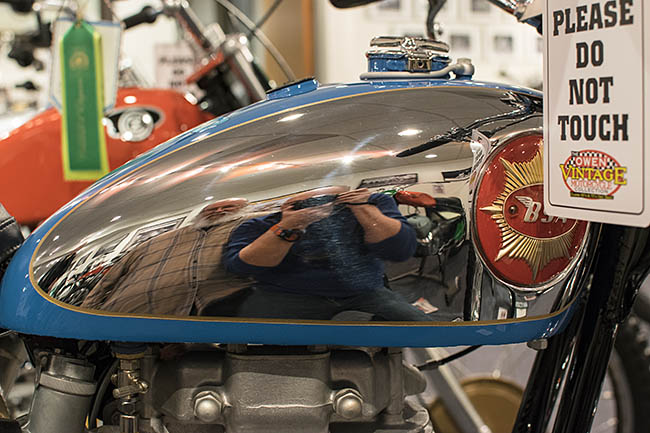 This was a great day and a great visit.  The challenge is going to be to find a ride for February that will be as grand.   I better get started on that right away!
Ride safe, my friends, and ride often!