You know, that little server failure we had a short while ago was difficult, but I'm now glad it happened.  We switched to a new server here at CSC and the performance has been way better.  It had been deplorable and it was taking me up to a dozen attempts to sign on to the blog so I could make a new entry.  Now, getting on to the blog is a breeze…I can sign in on the very first attempt.
Anyway, the reason for this blog is that I just read an interesting Cycle World comparo of the large ADV bikes (you know, the BMW GS1200, the KTM 1290, and the like).   What was amazing to me is not which large ADV bike Cycle World thought was best, but the recurring theme that all of the bikes they tested were too big and too heavy.   Consider this quote from the Cycle World article…
The thing about the GS is that it's just soooo big. Like, massive. Wirtanen likened it to riding a small country, and it definitely feels like it the first time you climb aboard. On top of it being 582 pounds with empty saddlebags, the fuel tank is enormous (its 8.7 gallons are admittedly nice when you're way off the grid) and makes you feel like you're riding a hippopotamus. The massive cylinder heads jut horizontally from the frame, adding to feeling of heft and girth.
Hey, that's not me talking…that's Cycle World magazine.   The article goes on to talk about the fuel economy (generally mediocre on all of the big bruisers), the weight (generally high on all of the bruisers), and one part I thought was particularly on the mark…
The difficulty with all that heft is that, once the GS starts to go down, it's really hard to save. Kamrad had a pretty good tip-over coming down a steep hill covered in grapefruit-size rocks. Just watching him try to pick the thing up was exhausting. Mass can be masked when rolling, but when it comes to righting a fallen beast, it's just dead weight.
I'm not including this to badmouth the BMW or any of the current crop of large ADV bikes.  Hey, BMW and the rest of the uber-ADV-crowd make nice bikes, but the reality is for real world adventure riding (which involves tight twisties, dirt, gnarly roads, stream crossings, getting the bike on and off boats, fixing flats, and more), the current crop of big ADV bikes are not the right tools for the job.  A 250cc motorcycle is.  That's the conclusion I've reached after riding for more than a half-century, and it's the conclusion I explain in Moto Baja!  
Look, the reality of it is when you're traveling internationally, you want a bike that can cruise at freeway speeds as well as handle congested city streets, dirt roads, obstacles, and the like.  The ability to run at significantly higher speeds adds nothing other than weight, complexity, and cost.  In most of the world, a 250cc bike is considered huge (it's only here in America and parts of Europe that we think we need large and heavy bikes).  I remember riding into a gas station in Colombia on an RX3 when the young lady who worked there took one look at my bike and asked what it was like to ride such a large motorcycle.  I thought that was an interesting reaction.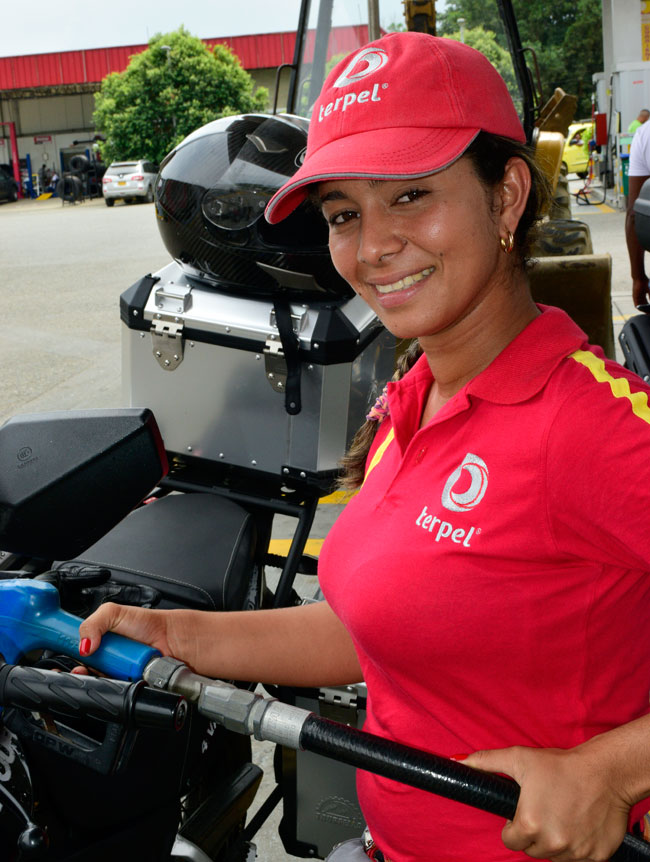 My take on all of this is that the current crop of big ADV bikes (and how they are marketed) are really not a lot different than the chrome-encrusted cruisers that were all the rage a decade or more ago.   High-end riding gear, electronics packages, and all the rest of the paraphernalia are, in reality, not a lot different than loud pipes, conchos, wide whitewalls, and chrome.  It's okay because it gets people out and riding, and if that's what floats your boat, that's cool.
And on that subject of getting people out and riding, one of my friends posted on Facebook that his goal was to get one new person into motorcycling next year.  He suggested it would be cool if we all committed to doing the same.  It's an interesting concept.
One more topic for this morning and that's the TT250.  They're inbound, and we're taking deposits now.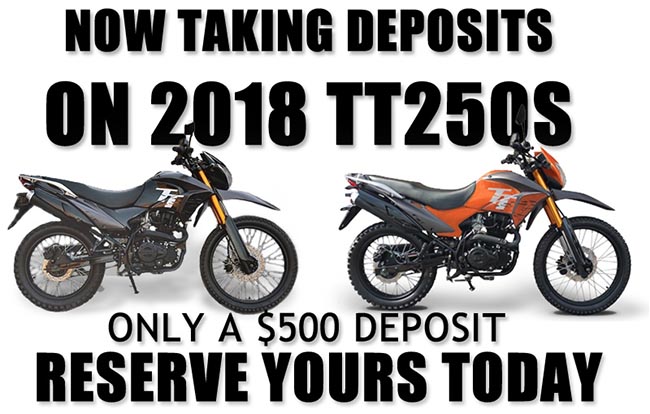 At $2195, the TT250 is an ideal way to get into the game.  If you're one of the many folks who spent big bucks on an uber-ADV bike but you're hesitant to take it off road, the TT250 is an ideal 2nd (or 5th) bike to play around on.  You might be surprised, but roughly half of those who buy a CSC motorcycle already own several motorcycles, and of those, many have a large ADV bike they won't take off road.  Give us a call.  We've got the ideal bike for you.