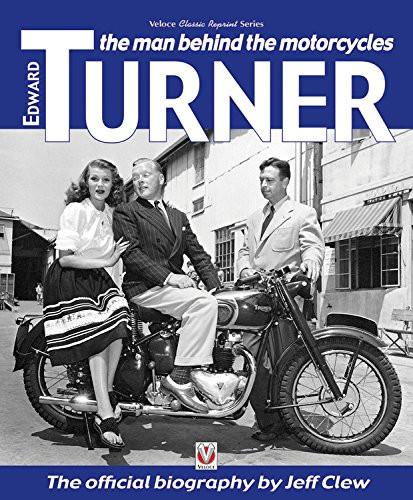 …and the book is Turner, the man behind the motorcycles.  The motorcycles, of course, were Triumphs.  Edward Turner was the engineer and executive behind Triumph's success.   It was a journey that reached its peak in the 1960s, and it was a glorious time.
When I was a teenager, a Triumph Bonneville was the ultimate in high performance motorcycling. You know, it's kind of funny…due to the successful brainwashing many of us underwent by Japan, Inc., today we would regard a 650cc motorcycle as a small bike.  Back in the day, though, the 650 Bonneville was the big bike we all aspired to as we worked our way through 90cc, 160cc, and 305cc road bikes.  I rode that route, and when I finally graduated to a Bonneville, I felt like I had really arrived.
The Turner biography, written by Jeff Clew, is an outstanding read.   They say you can't tell a book by its cover, but I knew this one was going to be great when I saw the killer cover photo.  That's Rita Hayworth behind Mr. Turner in front of Johnson Motors in Pasadena, the western US Triumph importer.   Other parts of the book were equally compelling, including the lengthy letter Turner wrote to his management team after visiting Honda in Japan.  Turner was shocked at how far ahead Honda was, and his letter (written well before the demise of the British motorcycle industry) pretty much predicted how things were going to go if Triumph didn't change its ways.  They didn't, and Turner's predictions were realized.    Turner is a great read and for me it was a page turner (no pun intended).  You wouldn't be making a mistake if you picked up a copy.