I spotted this article on Motorcycle.com this morning ("The Top 10 Things That Go Wrong On Group Rides") and I knew I had to read it.  It was a good read, although (knock wood) the things our good friends at MO listed have never really bothered us that much on any of our group rides.
One of the "Top 10" items on the MO list was mechanical failures.   The only problem we've ever had was when my good buddy Justin lost his countershaft sprocket nut on the first CSC Baja run.   That (and the substory involved with getting a replacement) turned out to be one of the best parts of that ride.  There's an old saying:  The adventure doesn't begin until something goes wrong.  You can read all about it in 5000 Miles At 8000 RPM, which you can order by clicking on the link to the right.
I was surprised to learn this morning that it's been exactly one year since our last day on the epic trans-China ride.  A photo popped up in my Facebook feed showing good buddies Joe Gresh, King Kong, and yours truly at the train station in Qingdao, our destination city on that amazing adventure…
The Zongshen motorcycles' performance on the ride across China was impressive.  We had no mechanical problems, other than a single flat tire (one of the things listed by MO in their Top 10).   That was on my bike, and the Chinese guys I rode with fixed it quicker than I would have believed possible.   What a ride that was!   Here's one of my favorite photos at the end of the ride, showing us riding along China's extreme eastern edge on the coast of the Yellow Sea…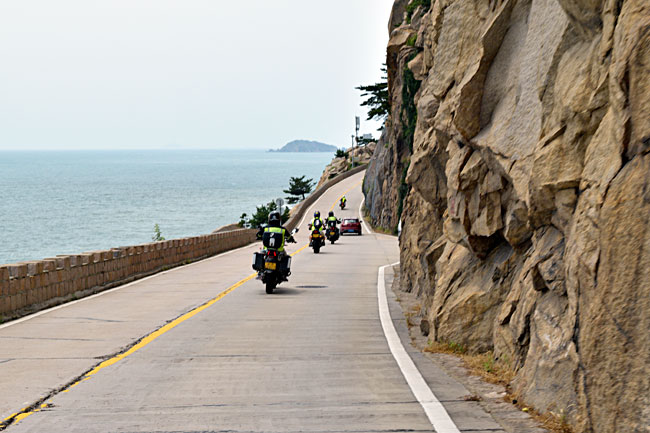 That ride across China was just flat amazing (it was one of the best rides ever).
So, back to the top 10 things that can go wrong on a group ride:  I guess a lot of things can go wrong, but we've actually had very few problems on our CSC rides.   I've led a lot of our company rides, including many of our CSC Saturday rides, the 5000-mile Western America Adventure Ride, and of course, our forays into Mexico.   We had one issue on the Western America ride in which a couple of our guests from China got into a fight (that was easily resolved).  Joe Gresh had a flat on his RX3 towards the end of the ride (Joe said he was always the guy on any group ride he's ever been on that gets a flat).
There was one group ride issue that plagued me our very first Baja ride, and that was leaving on time in the morning. The "let's leave on time" issue hasn't been a problem on any of our RX3 or TT250 rides; it happened on a run we did several years prior to that on the Mustangs.  Yep, yours truly and four other folks rode 150cc California Scooters all the way down to Cabo San Lucas and back.    I know what you're thinking and it's probably something along the lines of:  What were we thinking?   Steve and I laugh about it a lot.  We did 2,300 miles through Baja on 150cc hardtail Mustang replicas.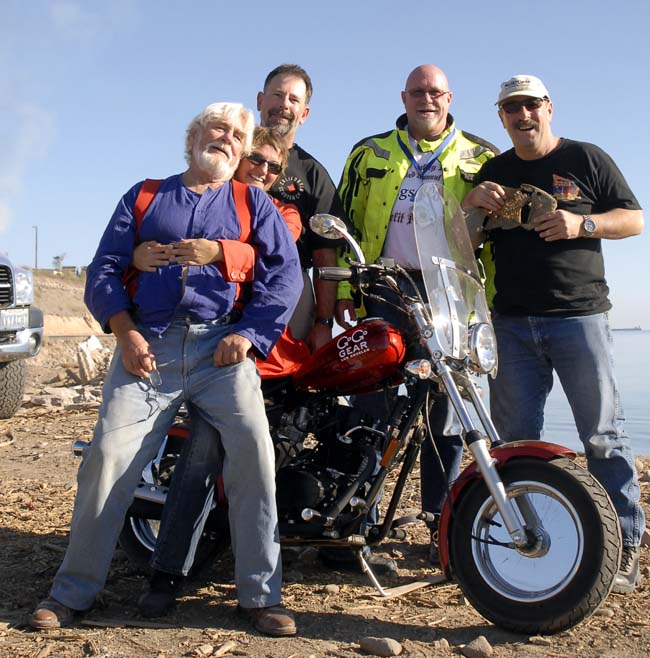 The smiles in the photo above  notwithstanding, I had a hell of a time getting everyone moving in the morning on that trip.   By the second day, I knew there was no way I was going to keep to the schedule, and I was growing increasingly frustrated with our morning departure delays and the amount of time we were taking to get moving again at every stop.   My good buddy J had the solution:  Just tell everybody when we're leaving, and then do so.  If others aren't ready, J said, they'll have to catch up.   I did that and it solved the problem.   We had a little bit of this problem on the Western America Adventure Ride and I used the same approach with the same result: Just leave at the announced time.  Problem solved.
On this topic of group rides, don't forget our ride tomorrow to the Flo's at the Chino airport.  We're leaving at 9:00 a.m. from the CSC plant.  We'll have a relaxed ride through Carbon Canyon.  We'll probably have to wait a bit for a table at Flo's, but Sue and I rode out there a couple of days ago to check the route, I talked to a nice young lady at Flo's, and they know we're coming.   Don't forget to bring a camera, as there are a lot of cool photo ops even it you don't go into either of the two museums at the airport.