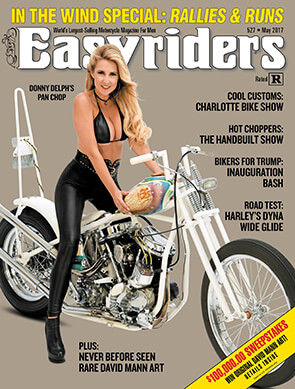 Wow, was I ever surprised this morning.  I received an email informing me that the assets of Paisano Publications (the company that publishes Easyriders and a host of other custom V-twin magazines) is up for auction.  The link for more info is here.
My first published work ever was in Easyriders magazine.   It was back in the 1980s and I had this idea about being a published writer, so I wrote a short story and mailed it to Easyriders (I actually typed it on paper and mailed it via the US Post Office, as word processors and email had not yet been invented).   After not hearing anything for several weeks I called the good folks at Easyriders, and a very nice associate editor explained to me that my short story really wasn't very good.  I asked what she didn't like about it, she told me, I retyped it to address the things she didn't like, and a few short weeks later it was published.  And they paid me for it.   Whoa, that was cool, I thought.
It's hard to tell how the Easyriders wave is going to crash on shore.   The auction has a reserve price of $3,000,000 (think of it as 770 RX3s, or 1,367 TT250s), which means if that price isn't reached it won't sell.  I just don't know that printed media periodicals are doing well these days, and I think the custom V-twin outlaw-wannabe fad pretty much went south with the advent of the Great Recession back in 2009.  It's kind of a double whammy if you have a print magazine that focuses on custom Harleys.  We'll see what happens.