One of our recent RX3 buyers bought his new CSC motorcycle for the specific purpose of joining our next Baja ride.   When I heard about that, I started thinking about the feedback we've had on our Baja adventures.  On our first CSC Baja tour, one of the guys who rode with us told me it was his first adventure ride, it was the best vacation he ever had, and the tour significantly enhanced his CSC ownership experience. Then he added a comment that I enjoyed hearing even more:  "I've spent way more money on other vacations, not had as much fun, and I didn't get a free motorcycle out of the deal."
I thought that was pretty cool.   Don't get me wrong…we're not giving away free motorcycles.   We are, though, giving away free Baja tours.   Buy a motorcycle from us and you're automatically invited on our Baja tours.  We charge nothing for the tour.  You have to pay your own expenses (hotels, meals, fuel, and Mexican insurance, which typically works out to a little less than a hundred bucks a day), but we don't charge anything for what folks tell us is the best ride they've ever experienced.
In preparing for 2017 Spring Break CSC Baja Tour I started thinking about riders I've seen in Baja.  Most folks I see down there ride in commercial tour groups.  You don't have to do that (you can ride Baja on your own and I frequently do), but my observation has been that most people ride Baja as part of a tour.   How much, I wondered to myself, are the tour companies getting for these rides?   I googled "Baja motorcycle tours" this morning and here's what I found: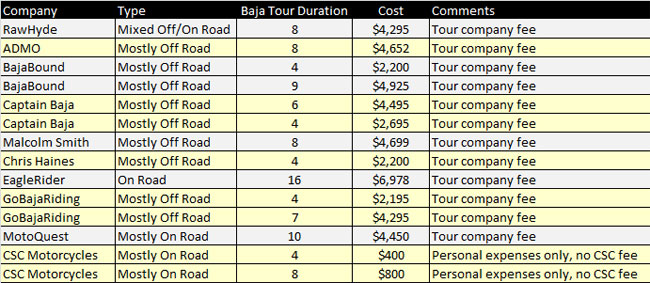 The above summary is interesting.   Like I said, we don't charge anything for our Baja rides (the $400 and $800 I show above are expenses you pay for gas, hotels, etc.).   For us, the tours are fun and a key part of our CSC philosophy.  We're not just providing world-class adventure motorcycles; we're helping you get into adventure riding.  To our knowledge, we're the only company doing this.  And it almost goes without saying (but I'll say it anyway): With any of the above tours (other than ours) when the ride is over you don't have a motorcycle.   With ours, you get to keep your RX3 or TT250!
So here's the message: We want to be your ticket to adventure riding, and we want your magic carpet to be a new RX3 or TT250.  There's no better way to get in the game.  Give us a call and come ride Baja with us!