The Los Angeles Roadster car club goes all the way back to 1957, and they held their 46th annual LA Roadster Show this weekend at the Fairplex in Pomona, California.  It's an impressive event.   My wife and I went yesterday, and it was great.   I knew it was going to be fun because this was the line waiting to get in…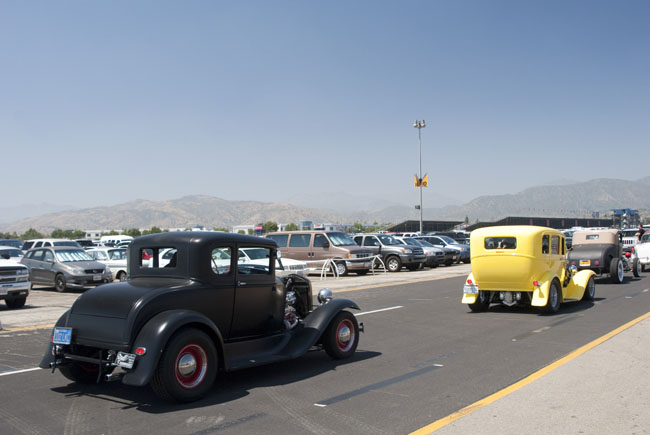 I knew we'd see some great cars.   The LA Roadster Show is so big that they run trams to bring people from the parking lot into the event.   The tram runs through the swap meet area, and the hot rods, restorations, and cool customs out there were impressive…there were more than 2,000 street rods and customs!  Every single one was a show quality car.
See what I mean? 
My personal favorites are cars and trucks from the '50s and '60s, and I especially like '55 and '56 Ford pickups.   My Dad had a '56 Ford as a company truck for his upholstery business, and every Friday during the summer when I was a kid I helped him make deliveries of freshly-reupholstered furniture with it.    Those were good days, but so are these.
Take a look at this yellow '56…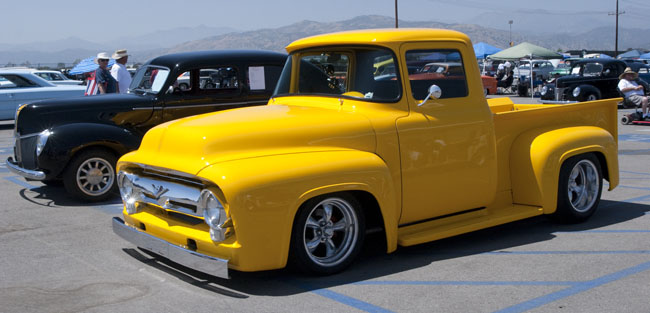 There were a few new cars there, too, like this 2010 Corvette Gran Sport convertible on display by Richard Hibbard Chevrolet…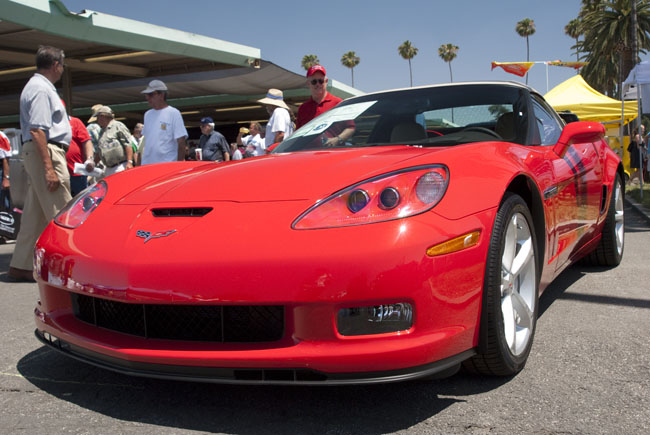 You've probably guessed I like Corvettes almost as much as I like motorcycles, and that red one was a beauty.  They're world class sports cars, regularly out-handling and out-accelerating foreign sports cars costing five or six times as much.   Ah, an opportunity for another question….any of you guys remember the name of the TV show that featured Buzz, Todd, and a new Corvette in the early 1960s? 
The LA Roadster show is huge, so I called Steve to find out exactly where the California Scooter booth was.  He found Sue and me before we found the booth, and when I got there, Carlos was having a good time telling folks about our bikes…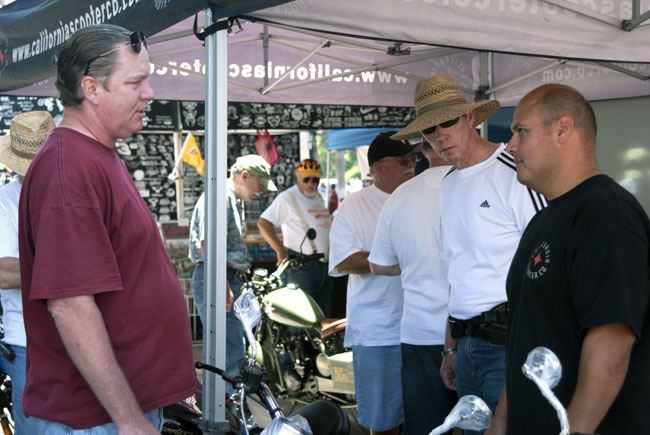 Carlos is a cool guy, and he knows the motorcycle manufacturing business well.  He's been with Pro-One and California Scooter for 20 years, and he's equally at home in the factory, working with our suppliers, and telling folks about our motorcycles.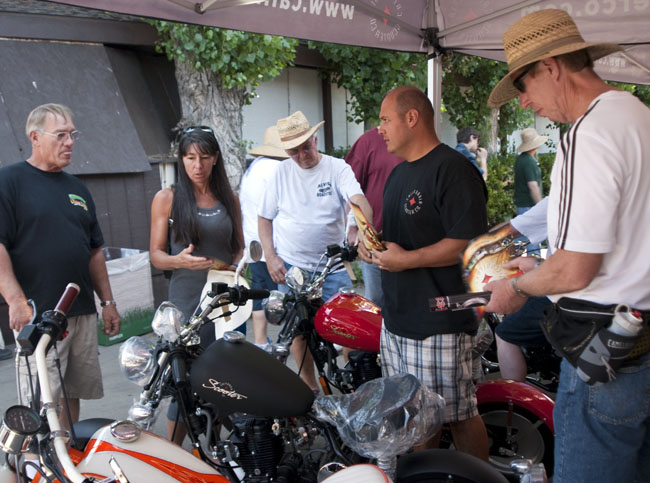 I was doing my normal thing, having a blast grabbing shots of the action with my Nikon, when I saw Shelley.   Shelley's an interesting entrepreneur with impressive academic and design credentials…she started Zombie Kitten Originals, a cool collection of women's clothing inspired by sci-fi films from the '50's and '60's.    You should visit the Zombie Kitten website…it's cool!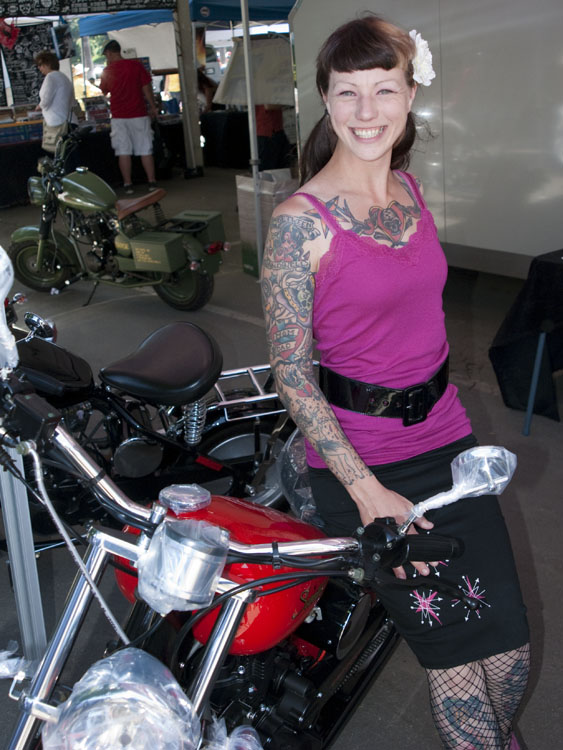 After grabbing a few shots at the booth, I went out and wandered around a bit…check out this wagon…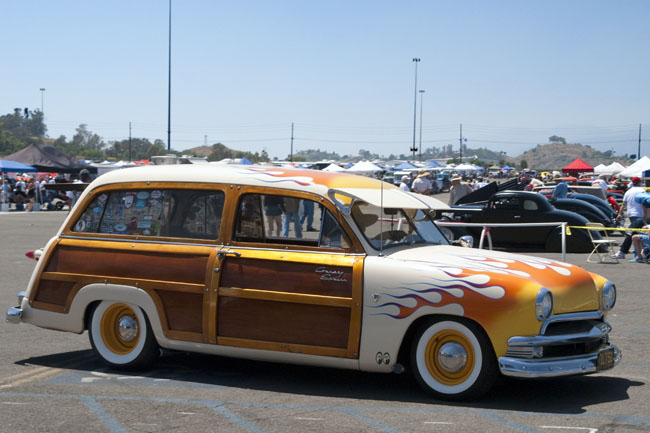 Back in the California Scooter booth, the Sarge (our latest example of John's incredible custom-bike-building talent) was getting a lot of attention.   I saw our friend Norman checking it out, and my first thought was that his shirt was a pretty good match for the bike…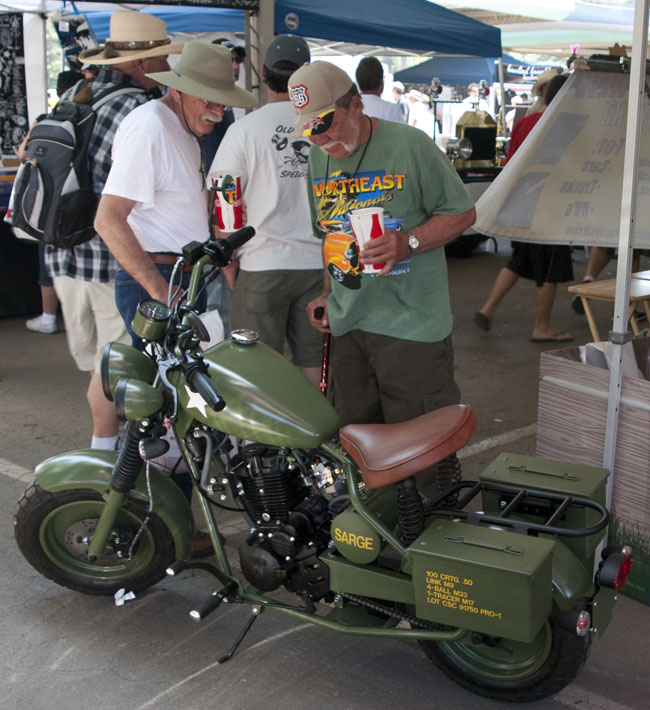 Norman's from Massachusetts, and he was in town for a few days to take in our beautiful So Cal weather and visit the Roadster show.  Norman and I had a great conversation about motorcycles, Boston, and a few other topics.  He makes the bike look good, don't you think?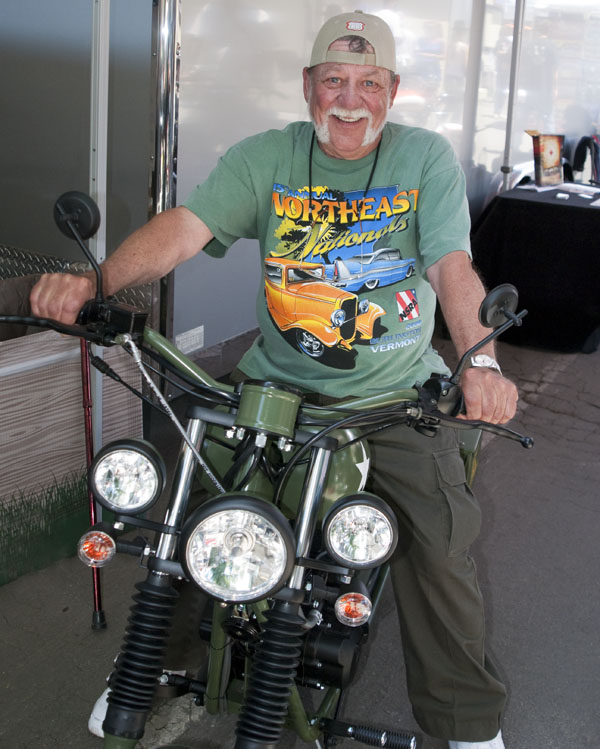 I wandered around a bit more and I found another incredible '56 Ford pickup truck.   That powder blue and the wide whitewalls work well together.   The only thing missing on this truck was a California Scooter painted to match!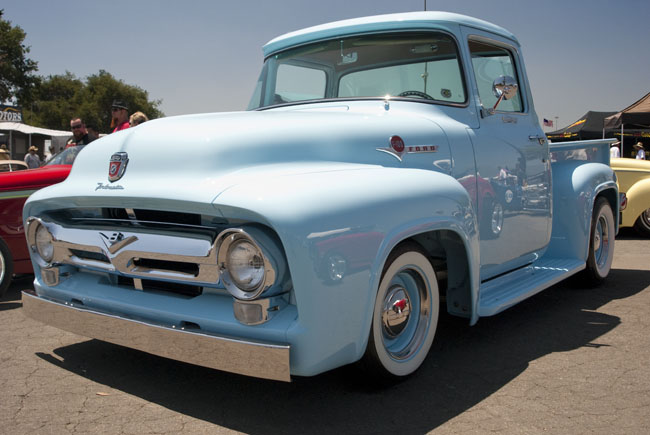 We had a lot of action at the California Scooter booth.   The custom car crowd is a good one for us…guys and gals who appreciate nostalgic style, craftsmanship, design simplicity, and the kind of quality that naturally results from intense attention to detail.   Our California Scooters grabbed a lot of attention, and we really like being at these events.
My last shot of the day…a self-portrait…