Wow, what a weekend!    Turnout was brisk, we took pre-orders on a bunch of new Cyclones, and everyone had a great time.
The most prevalent comment I heard on both Saturday and Sunday was this:   The photos on the Internet don't do the new Cyclone justice…the bike looks way better in person than it does in the photos.  As the guy who took most of those photos, I don't if I should take that as a compliment or not, but I have to agree that the RX-3 is one fine-looking motorcycle.   That's not just my opinion…it's what we heard from everyone.   We didn't have to ask anyone if they wanted to sign up…they all told us.  Wow.
And you know the Internet has been lit up with comments about this great new motorcycle.   An interesting question emerged on the ChinaRiders forum, and that's what colors are selling the best.   Here's how that one shakes out based on the pre-orders we've been taking…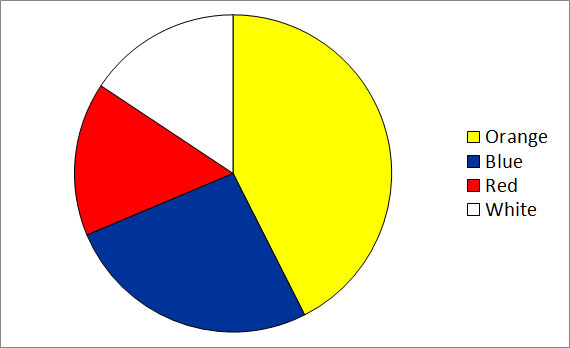 We call the color of the bike I'm getting orange, and I guess it is, but I think the color is really closer to a dark yellow.   Like I said, it's the bike I ordered, and I like it a lot.   It's kind of funny…it's the one I like and I guess because of that I've been posting mostly photos with the orange bike.   The pattern has been this:  Whatever color I feature on the blog, that's the color we get the most orders for.   When I post a photo of a blue RX-3, we start getting more orders for it.  Our red bike is in certification testing right now, so I don't have as many photos for it.   And we don't have a white one yet.   We'll see how those colors do when we start posting more photos.
Hey, here a few more photos from our great weekend…
I've got more photos and I'll post those in the next few days, folks.  Like always, the best part of these events is meeting and making new friends, and we did a lot of that on Saturday and Sunday.
Good times, with much more to follow.
Stay tuned!