…and some cool Colt photos!  It seems my photos of the Colt a few blogs down prompted our good buddy and trusted advisor Jimbo to alert his friend Tom, who forwarded photos of his Colt!
So, without further ado, here's Jim's email to me and the string of Jim and Tom emails…
************************
Joe:
Here's an interesting email story that should be told…Tom Lawson gave me permission to send it on for your use…Tom is our kind of guy!
Cheers!
Jimbo
************************
Thanks, Jim!  I will follow that Blog!
As promised, here are some photos of my little Colt!  Enjoy!
All the best,
Tom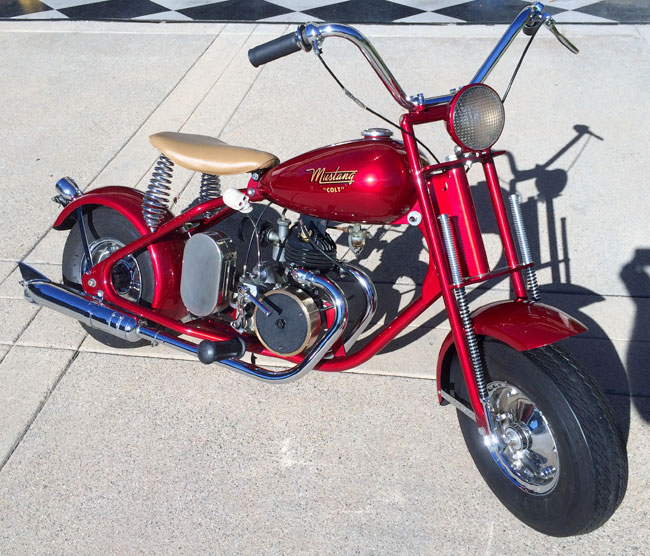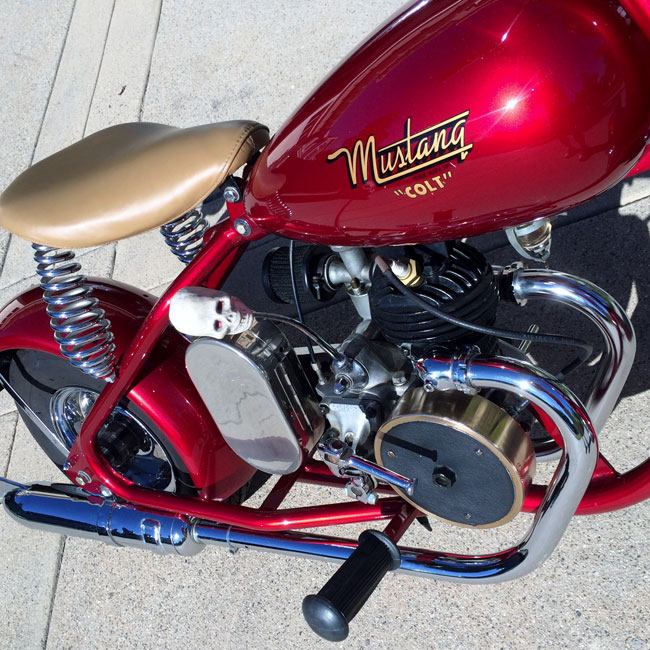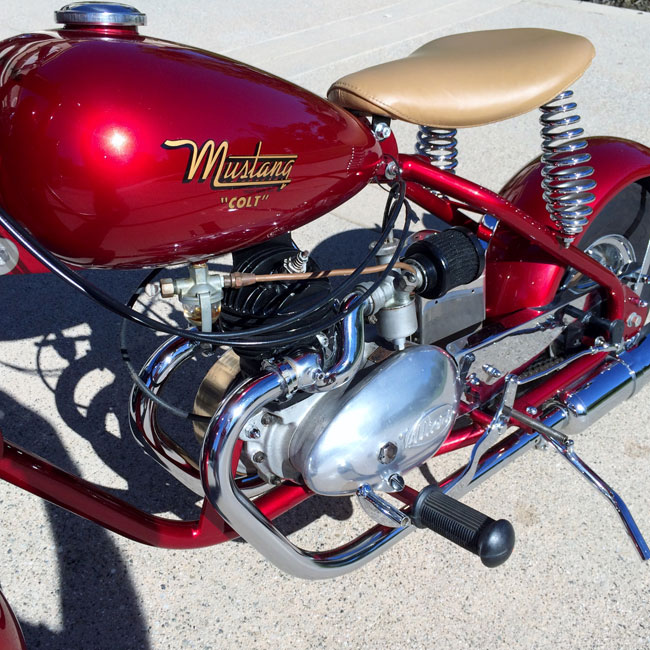 ****************
Tom:
I noticed a good photo of the early Colt on the CSC Blog today..In case you don't follow the Blog, here's the pic!
Regards!
Jimbo
************************
Tom:
Again, thanks for your most interesting and the most beautiful Phaeton I have ever seen…Even the photography is awesome…I have filed them to share with others!
I think you should know that you are corresponding with an 83 year old "has been"…I grew up during the "heyday" of the evolution of the flat head Ford early Hot Rod era…I was fortunate to been able to hang out at a leading hot rod shop in Glendale California during my teen years and
leaned to "talk the talk and walk the walk"…Looking back, I'm surprised I survived it all…Then later 15 years at Mustang Motorcycle, building 10 bikes each day and testing thousands of them, it's a wonder I'm sitting here writing this!..Oh yea, the stories I could tell you…Through all this I was closely associated with some very talented guys, geniuses actually and some of it rubbed off on me and I too developed skills and craftsmanship that later allowed me to build some projects that I too was very proud of so I know the "feeling"!
About the year 2000, I built a 1948 Ford truck muscle project that won many awards…I did all the work except the painting but I was probably the first to ever powder coat the entire truck, including the frame and cab…The powder coat was an ideal primer for the finish paint…I won the war over rust!…I recently sold the truck and it now resides in Auckland New Zealand…
I restored the 1961 Mustang my wife located  about 10 years ago and I did it my way!…After building thousands, I was not about to build another one with out personalizing it to fit me…
I'll wait until you send the pics of your Colt before I send your story on..
Cheers!
Jimbo
************************
Well, Good Sunday Morning, Jim!
What a delightful response – you are right, we would likely have gotten into trouble had we met sooner!
After I wrote to you, I thought about it and I suspect that you are correct – all adjustable bars need to be adjustable is to cut off the bars, and weld a cradle on the forks for new bars.  My Dad, an avid mechanic might just have done that himself – knowing how he was (if it didn't fit he made it fit) he may have actually been the culprit!
I suppose that makes my Colt a bit out of the ordinary and so I won't ever win a Concours because the handle bars are wrong and of course the mufflers are not exactly correct, (and needless to say, the color isn't right) but as you can see by the attached photos, I am a bit stymied by convention…(I just finished resurrecting the REATH Automotive Fiat Altered and I just got my dragster back from the NHRA Museum).  I have also attached some photos of my last Grand National Roadster Show Winning car a '27 Chrysler Phaeton – it was originally the official parade car for Victoria Australia from 1927 through 1966 and I thought it would be better as a dual-quad Hemi -powered street rod.
This may confirm to you that I am a bit irreverent!  Cars and bikes were meant to be personalized – I have had 100-point Mopars, Pontiac's, and most recently a 1951 Chris-Craft Mahogany Speedboat (if you want picky judges, just go out and restore a wooden speedboat) and all that I take away from 'restoring' scores of vehicles back to original is to realize why there is an aftermarket….BORRRR-ING!!!!
I will send you photos of my little Colt after I clean her up and get her running ( I took her home from my museum after I wrote you in order to get her fired up – I never even started her up after the last resto in 1996 –  that shows you how busy I've been!)
You are more than welcome to publish whatever you want – I was an MMCOA Member for years but somehow I dropped off of the list and never received a renewal request so I figured it went out of business, but now I see that it is still going so I will likely re-join.  I suppose I need to get my Colt in the Registry….
Anyway, Cheers, and I will get those Mustang photos to you soon.
Thanks again for your thoughtfulness, Jim!
Tom  
************************
Hi Tom:
Thank you for your very descriptive and enlightening message…Oh, how I wish I could have met you sooner…You are a man after my own heart! Oh the stories we could tell each other…
First the bad news!..I'm not expert on the original Colt models…I started with the company in 1949 and the Colts were no longer produced…However, there were a few left around so I can relate some…I remember Frankson Scooter Mart still…
I worked at the plant from 1949 to 1961 and I can  say with confidence that we never offered or made adjustable handlebars…I'm quite sure someone modified it to suit there needs… About ten years ago my wife located and bought me a 1961 Mustang Thoroughbred and the first thing I did was install adjustable handlebars because I'm 6'4″ tall…I still have it and it brings back fond memories…I remember the "fish tail" mufflers…They were chrome plated and dressed the bike up nicely…Again. I'm sorry i can not help with this either…
Tom, you've told me an amazing story and I would love to share it with the Mustang Club members…If you agree, a photo or two of your one of a kind Colt would be a good read for the boys…Perhaps some member could help you with some answers…I would also like to send it to the CSC Blog, a dynamic web site that caters to small bike happenings…
Looking forward to hearing from you soon!
Cheers!
Jimbo
************************
Hi, Jim,
My Dad bought my 1946 Mustang Colt, used in 1949 from Frankson Scooter Mart in Glendale. We lived in Hastings Ranch in Pasadena, all of my early life so it regularly ferry'd my Dad and I up to Crystal Lake to go fishin' when I was a tyke – I rode on the rear fender wedge buddy seat, feet on the axle nuts holding the bag with the Peanut Butter & Jelly & Lettuce Sandwiches and the two fishing poles with one hand and my other hand holding onto Dad's belt up Azusa Canyon Road and all the way through High School, my trusty Mustang was there for me.  In one of the many restorations I did on the bike, I even won the Pasadena High School Car show in my Junior Year (1972) with it.
A few years back, I painted it House of Kolor, Gold-Base Kandy Apple Red, chromed the chain guard, battery box, pipes, mufflers & wheels;  polished the exhaust manifolds put Camel-colored leather on the seat and it sits in my car museum in terrific company.  I'm sure Dave Coffman, who tried to buy the bike once or twice over the years and other aficionados like yourself, Al Simmons or Roy Stone would strangle me for customizing my Colt, but to me, it is a member of the family, and let's face it, Model 1's weren't the best looking bikes with those ugly cream-colored wheels and non-descript black everything else.  Trust me when I tell you, my Kandy Apple Red & Chrome Colt is a very Bitchin' looking little bike and sucks people to it like white on rice!
I don't know who else to ask (I asked Ed Justice of the Justice Brother' Museum in Duarte, CA – another proud owner of a Model 1 Colt [who, by the way needs a front fender for his Colt] and he didn't know) but might you know why my Colt has adjustable handlebars and what my Dad always called "butterfly" mufflers (that look almost identical to the original mufflers but have a tapered chromed acorn nut in between the flattened exhaust exits, and why is the top of the flattened exit on the top, about an inch longer that the lower flattened exit and with a much more graceful windswept look to them than the originals?
I assume that the mufflers may be an aftermarket addition by the owner that sold it to Frankson Scooter Mart, but I can't seem to find out why the handlebars on all other Colt's I've seen are fixed to the front forks, and mine has chromed bars sitting in cradles with chromed caps on them, and fully adjustable.  The front fork vertical springs are there but the bars are removable and it is the only Colt I've seen that way.
Any ideas?  Let me know if you need to see photos, and I'll send you some.
Thanks in advance and Greetings from The Peoples' Republic of Kalifornia,
All the best,
Tom
***********************
Very cool stuff, guys, and Jimbo and Tom, thanks for those great Colt photos!