Here are some of the questions folks often ask us. If you don't see your question here, though, or if you'd just like to say hi, give us a call at 800 884 4173!
---
1. Where can I purchase a California Scooter?

Call CSC Motorcycles directly at 800 884 4173. If you want to buy a bike in Canada, Mexico, Australia, the Middle East, Japan, or in other overseas locations, give us a call or send an email to info@cscmotorcycles.com and we'll put you in touch with one of the dealers in your country.
---
2. Do I need a motorcycle license?

In most cases, you will need a motorcycle license. Each state is different. Please contact your local DMV for requirements.
---
3. Does the California Scooter come with a warranty?

Yes. All of our new motorcycles have a 12-month, unlimited mileage warranty, including parts and labor.
---
4. How do I register my California Scooter?

For California residents, we register your scooter for you. For all other states, we provide you with the necessary paperwork to take to your local DMV office.
---
5. Are California Scooters EPA and CARB approved, and are they street legal?

Yes, CSC motorcycles are fully street legal. Our bikes are approved in all 50 states and several overseas locations.
---
6. What is the gas mileage for a California Scooter?

Fuel economy depends on several factors, including rider weight, gearing, engine size, and accessories. The CSC 150 motorcycle can attain in excess of 90 miles per gallon.
---
7. Can two people ride on a California Scooter?
The California Scooter is designed for a single rider. If you'd like, we can sell you two motorcycles! Don't laugh…many folks do exactly that!
---
8. Where can I purchase accessories?
Give us a call at 1-800-884-4173, or shoot an email to us at info@cscmotorcycles.com.
---
9. Are replacement parts available?
Absolutely. We stock everything needed for your CSC motorcycle. Give us a call at 1-800-884-4173, or shoot an email to us at info@cscmotorcycles.com.
---
10. Do I have to shift gears or does the motorcycle have an automatic transmission?
CSC Motorcycles have 5-speed transmissions and a clutch. The controls layout is identical to other modern motorcycles. We do not offer an automatic transmission model.
---
11. Can I get a custom paint job on my CSC motorcycle?
You bet! We provide some of the best show quality custom paint jobs in the industry. Take a look at our CSC Factory Customs page to get an idea of how we can make your dream become a reality!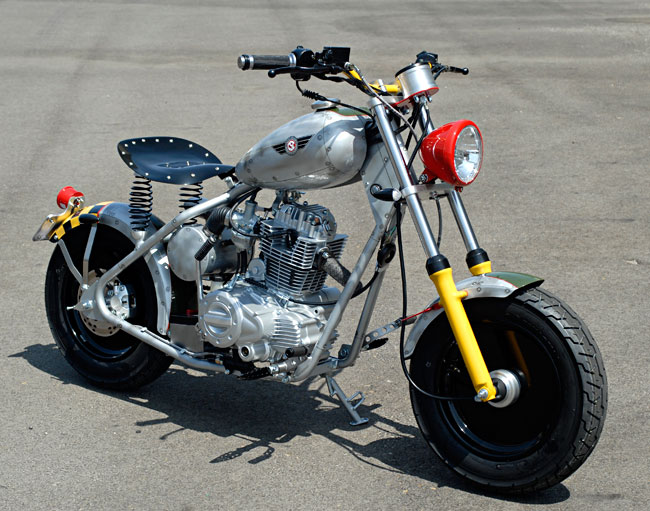 ---
12. Do you have custom wheels available?
We have an extensive collection of custom wheels designed specifically for our CSC Motorcycles, including custom painted stock wheels, wire wheels, and an extensive line of billet wheels.
---
13. What are the prices for your motorcycles and accessories?
No secrets here, folks! Please visit our Retail Pricing page.
---
14. How much do your motorcycles weigh?
Our bikes weigh just 240 lbs and they have a low 27-inch seat height. Our bikes are light and quite maneuverable. For new riders, riders who don't want to wrestle with 800 lb behemoths any more, and folks who want to surprise sport bike riders in the twisties, our light weight, short wheel base formula just flat works!
---
15. Can I follow you on Facebook?
Please do…our CSC Motorcycles Facebook page is right here! You might also want to follow us on our very popular California Scooter blog.
---
16. What's it like to ride a California Scooter?
We thought you'd never ask. Let's go for a ride on our California Scooter Company videos page!
---