---
So who are we, and what's the story on these magnificent little motorcycles?
We're CSC Motorcycles, we're located in southern California, and our bikes are designed and assembled right here in the good old USA.
We've been in business making performance V-twins and accessories for about 30 years. CSC Motorcycles came into being when the Boss bought a 1954 Mustang to restore for his father. That little bike had sat unused for years when he bought it back to our factory, but after cleaning out the gas tank and the carb, it fired on the first kick. Our customers were so fascinated with that little Mustang that we decided to design and build the bike Mustang would be making today if they were still in business. In the photo above, that green motorcycle with the yellow wheels is our original '54 Mustang, and the red bike is one of our brand new CSC 150 motorcycles.
We offer four models and each is available in either a 250cc or a 150cc version.
The Classic is available in six colors. It's our standard bike, but there's nothing "standard" about these little marvels. The Classic is one of our best deals. Oh, and we sell a lot of accessories, too. Take a look at this highly accessorized Classic...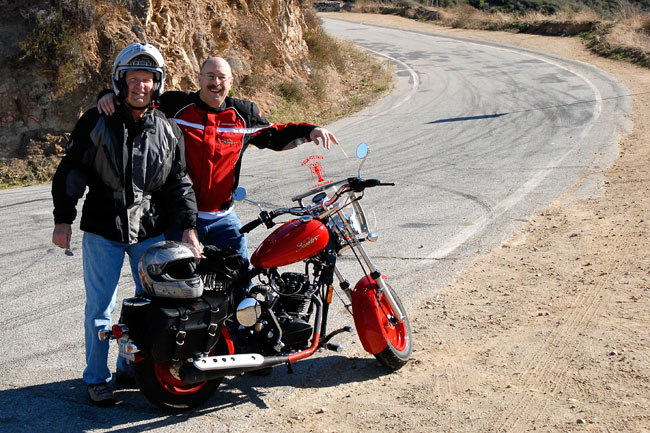 The Greaser is our bad boy bike. The Greaser is painted flat black with gloss red wheels and wide whitewall tires. It's the hot rod look, and it really works on this bike. The Greaser is one of our best-selling bikes.
The Military Series bikes are available in either OD green or desert camo, and the look is visually arresting. The Boss rides an OD green Military Series bike, and it draws a crowd wherever we go. In fact, all of our bikes do that, but the Military Series bikes do it even more. We've got some really cool accessories for the Military Series, too, like saddlebags constructed from .50 cal ammo cans.
We originally created the Babydoll for our female riders, but a funny thing happened...women buy all of our bikes in about equal numbers, and we've had a few guys buy the Babydoll because they like the look. It's a cool two-tone pink and white with a silver seat and whitewall tires.
Like we said above, any of the above models are available with either the 150cc or 250cc engine.
Oh, one more thing...we do many, many custom bikes. We also offer the CSC "Basic" with a primer finish on the tank and fenders because many of our customer want to paint the bike in their own colors. We do a lot of custom work, too. Make sure you check out our Factory Customs page!