We can build your motorcycle in any color you choose, and accessorize it with really cool bling from our extensive line of optional features. Bags, windshields, racks, spotlights, chrome...we can do it all!
Where can I buy one?
We sell factory direct, and we'll ship right to your front door. The bike will be ready to ride when you receive it!
Follow our adventures, musings, and other generally cool motorcycle-related stuff on the CSC blog!
Wow!
Check out the bike we are bringing to you next! A 250cc adventure touring motorcycle...the CSC RX-3 Cyclone!
Keep an eye on the CSC blog for updates on our newest CSC motorcycle...a 250cc water-cooled dual sport adventure touring bike! Oh, this is going to be fun, folks!
Here's another beautiful bike...a 250cc P-51 headed to the Lone Star State! Whoa, these colors just flat work!
Check out this loaded P-51 250cc CSC motorcycle, with nearly every chrome accessory in our catalog!
Show-quality black and chrome just flat work on a custom motorcycle, and if you'd like to see more of the above loaded P-51, check out this story on our CSC blog!
---
Recent custom 250cc P-51 motorcycles!
Whoa! A hand-painted gold leaf Mustang logo on a recent custom P-51 motorcycle in gun metal gray! These colors really stand out!
Another dynamite CSC motorcycle in our aggressive AgGreen custom color combo! Nothing runs like a CSC motorcycle!
A yellow CSC P-51 with wire wheels and a rack!
And another custom P-51 that was supposed to be the Boss's bike, but once it went on the CSC blog, the offers started pouring in!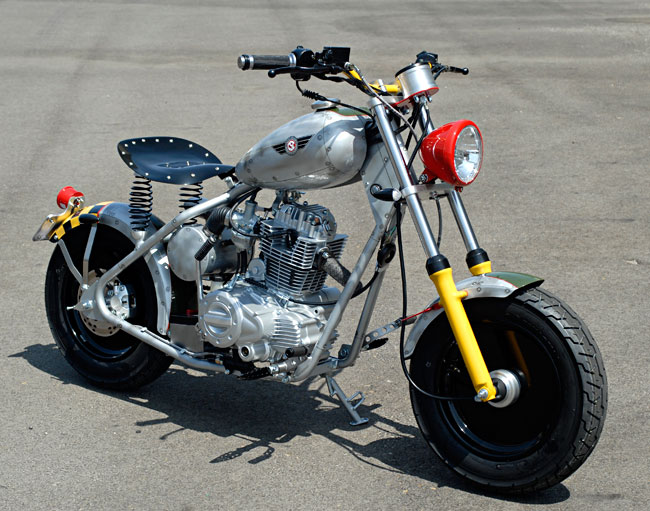 The bike above with its World War II aviation theme sold within minutes of appearing on our CSC blog...but we can build a custom motorcycle any way you like...give us a call!
Click here to see more CSC customs!
---
A stock 250cc P-51 Classic!
You asked and we delivered! More power? No problem! We recently introduced our new 250cc SOHC counterbalanced engine in the exciting new P-51 CSC! Here's one in red...and we have several other colors available!
---
Cool deals (they're almost steals!)
From time to time we pick up interesting things and we'll offer them for sale here. Right now we have a super rare Mustang DeliverCycle basket case for sale. Take a look at our Classifieds page and give us a call (800 884 4173) if you want a deal you'll be talking about for years! And sometimes other folks want to sell cool accessories, too, which we'll post to our free Classifieds page!
Yep, we rode our CSC 150 motorcycles all the way to Cabo San Lucas and back during the hottest time of the year as part of our engineering development program. These bikes are tough, and they'll go the distance!
Is it street legal?
You bet! Our bikes are fully street legal in all 50 states! We're approved by DOT, CARB, and the EPA!
We've had great press...read about us and original Mustang motorcycles in Motorcycle Classics magazine!
---
So who are we, and what's the story on these magnificent little motorcycles?
We're CSC Motorcycles, we're located in southern California, and our bikes are designed and assembled right here in the good old USA.
We've been in business making performance V-twins and accessories for about 30 years. CSC Motorcycles came into being when the Boss bought a 1954 Mustang to restore for his father. That little bike had sat unused for years when he bought it back to our factory, but after cleaning out the gas tank and the carb, it fired on the first kick. Our customers were so fascinated with that little Mustang that we decided to design and build the bike Mustang would be making today if they were still in business. In the photo above, that green motorcycle with the yellow wheels is our original '54 Mustang, and the red bike is one of our brand new CSC 150 motorcycles.
We offer four models and each is available in either a 250cc or a 150cc version.
The Classic is available in six colors. It's our standard bike, but there's nothing "standard" about these little marvels. The Classic is one of our best deals. Oh, and we sell a lot of accessories, too. Take a look at this highly accessorized Classic...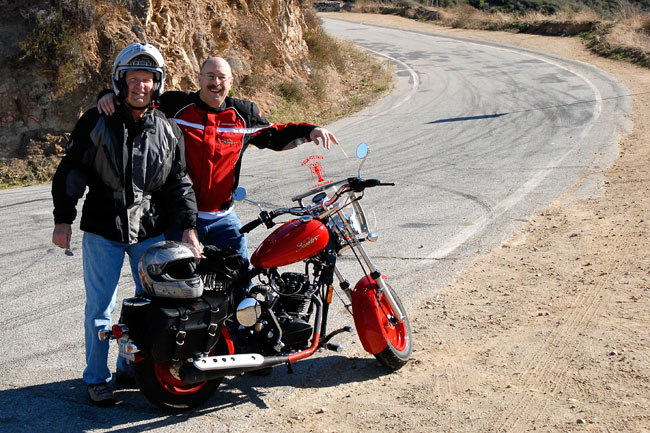 The Greaser is our bad boy bike. The Greaser is painted flat black with gloss red wheels and wide whitewall tires. It's the hot rod look, and it really works on this bike. The Greaser is one of our best-selling bikes.
The Military Series bikes are available in either OD green or desert camo, and the look is visually arresting. The Boss rides an OD green Military Series bike, and it draws a crowd wherever we go. In fact, all of our bikes do that, but the Military Series bikes do it even more. We've got some really cool accessories for the Military Series, too, like saddlebags constructed from .50 cal ammo cans.
We originally created the Babydoll for our female riders, but a funny thing happened...women buy all of our bikes in about equal numbers, and we've had a few guys buy the Babydoll because they like the look. It's a cool two-tone pink and white with a silver seat and whitewall tires.
Like we said above, any of the above models are available with either the 150cc or 250cc engine.
Oh, one more thing...we do many, many custom bikes. We also offer the CSC "Basic" with a primer finish on the tank and fenders because many of our customer want to paint the bike in their own colors. We do a lot of custom work, too. Make sure you check out our Factory Customs page!